Helping manufacturers unlock the power of 5G and industrial digitalisation to be smart, productive and sustainable.
The 5G Factory of the Future programme is an open-access industrial 5G testbed being developed by a consortium of industrial and academic leaders to encourage adoption of 5G technologies in manufacturing.
The project is exploring ways to dramatically improve manufacturer performance with potential significant reductions in defects and waste through real time monitoring; enhanced machine utilisation and energy saving through digital twin track and trace; and reductions in travel and maintenance times brought about by shared hybrid reality spaces.
The private 5G infrastructure seeks to unlock the potential benefits of industrial digitalisation in manufacturing through use-cases that test the most challenging and ground-breaking areas of 5G for manufacturing: increasing bandwidth, decreasing latency, ensuring security across a robust network and augmenting supply chain transparency, ensuring future industrial sustainability.
Led by the University of Sheffield Advanced Manufacturing Research Centre (AMRC) North West, the consortium of partners includes global players BAE Systems and IBM, telecoms and private 5G network provider aql, along with Burnley-based MTT, an SME developer of digitalisation technologies for machine tools, Lancashire-based data-driven logistics specialist, Miralis, and leading UK innovation centre Digital Catapult.
---
5G technology has the power to unlock the true potential of digital manufacturing with faster speeds, lower latency, larger bandwidth and edge computing capabilities.
5G Factory of the Future will provide potential for new ways of working that contribute to broader objectives of UK manufacturing to improve efficiency, productivity, safety, and reduce CO2 emissions and other waste using key digital technologies such as Internet of Things (IoT); Mobile Edge Computing (MEC); visual inspection; artificial intelligence (AI); machine learning (ML); virtual reality (VR); augmented reality (AR) and digital twins.
A primary site will be established at the University of Sheffield AMRC North West in Lancashire with secondary sites at BAE Systems in Warton and at the AMRC in Sheffield. These locations will test the industrial capabilities of 5G and the surrounding services to develop connected, intelligent processes; and identify the challenges and opportunities.
The programme will accelerate development and testing of smart solutions and services to encourage companies of all sizes to test and further develop their concepts using the testbed as a sandbox environment.
It will enable manufacturers to:
Predict downtime, optimise delivery schedules and provide improved customer service in a trusted supply chain;

Enable efficient integration and exploitation of mobile IoT technology for digital manufacturing;

Provide full connectivity between the workers, the machinery, the supply chain and the product to optimise operations;

Develop full life-cycle product management from incoming materials, to products being recycled;

Develop new business models and sustainable services.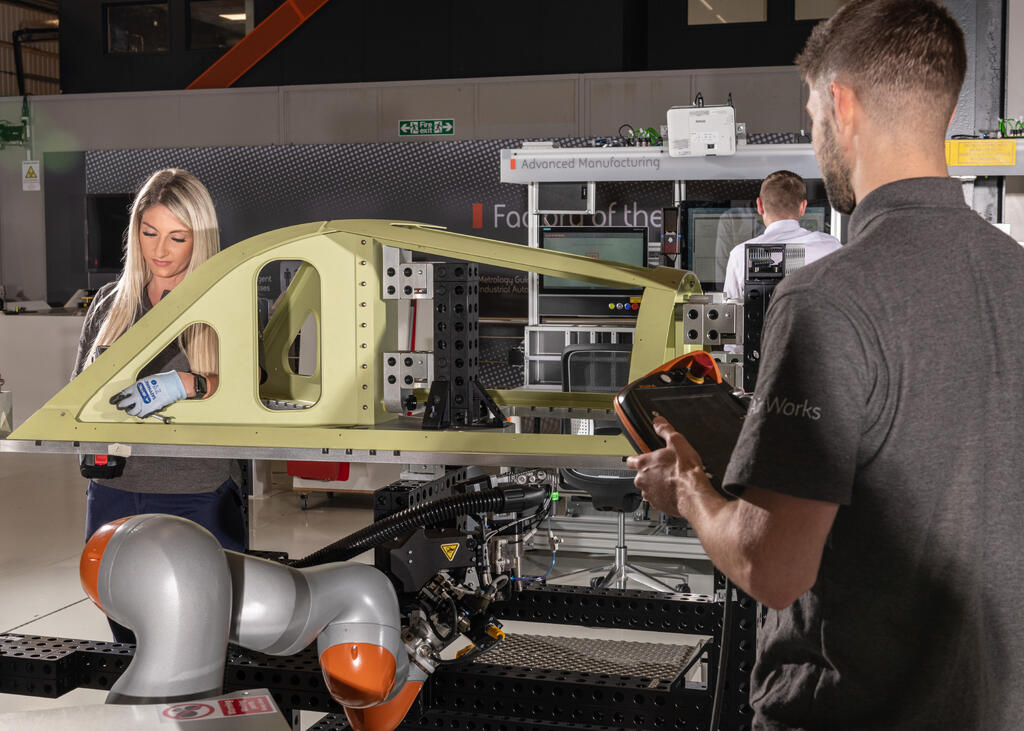 ---
The benefits of the 5G Factory of the Future are expected to be threefold.
For industry it will:
Help businesses understand the place of 5G in next-generation manufacturing;

Create a blueprint for smart factory connectivity;

Generate a business case for the 5G infrastructure and use cases;

Create awareness and an integration strategy for the supply chain.
For mobile network operators and technology providers it will:
Build an understanding of how to configure a 5G network to meet the demands of manufacturing;

Determine the unique requirements for future manufacturing.
And for Artificial Intelligence it will:
Demonstrate AI capabilities within manufacturing;

Establish where powerful AI can be adopted in the manufacturing domain;

Provide a reference design to clients and future users.
---
The 5G Factory of the Future programme was awarded £9.5m by the Department for Digital, Culture, Media and Sport (DCMS), which includes match funding from industry. It is part of the government's £200m investment in 5G test bed facilities across the country.
For more information on the project and its use cases, visit: www.5gfof.co.uk