AMRC Korea launched before audience of South Korean business and civic leaders and academics
18 October 2016

Around 100 guests including South Korean business and civic leaders and academics attended the official launch of AMRC Korea in Jeonju city.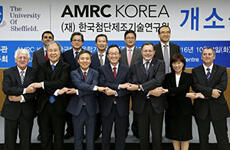 AMRC Korea is a not for profit organisation which is a part of the University of Sheffield Advanced Manufacturing Research Centre Group and has been launched to build on the technological successes of joint projects involving the AMRC in the UK, the Korea Institute of Carbon Convergence Technology (KCTECH), other Korean high-value manufacturing R&D institutes and companies.
AMRC Korea has been established to develop collaboration with Korean partners in the fields of:
Government-backed research and development projects focused on advanced manufacturing technologies.
Technology development and consultancy services for high value technology companies.
Industry training programmes, including industry-focused MSc and PhD degree programmes in advanced manufacturing technologies.
Global networking between Korean companies and the 100+ industrial partners currently working with the AMRC Group's centres.
The organisation will draw on the expertise the AMRC Group has in developing advanced manufacturing techniques, technologies and processes; helping companies solve technology-related problems and supporting the development of national manufacturing strategies by building workforce skills and introducing advanced techniques, technologies and processes.
AMRC Korea's launch is already resulting in the development of projects with manufacturing partners in Korea and KCTECH.
Among those attending the launch were the British Ambassador to South Korea, Charles Hay, Jeonbuk provincial governor Song Ha-Jin, Jeonju mayor Kim Seung-Soo, Jeonju university president Lee Ho-In and Boeing's Korea and South East Asia Technology Strategy Director Jonathan Lee.
Also present were the Korean Ministry of Trade, Industry and Energy Director Joo So-Young and KCTECH President Kang Shin-Jae. The AMRC was represented by Group executive director John Baragwanath, Composite Centre head Richard Scaife and AMRC Korea executive director Lee Joung-Hwan and lead research engineer Zeeshan Qureshi from the AMRC Composite Centre.
The launch ceremony was reported in a number of leading Korean newspapers.