Over the last three decades, additive manufacturing (AM) has quietly transformed manufacturing and design.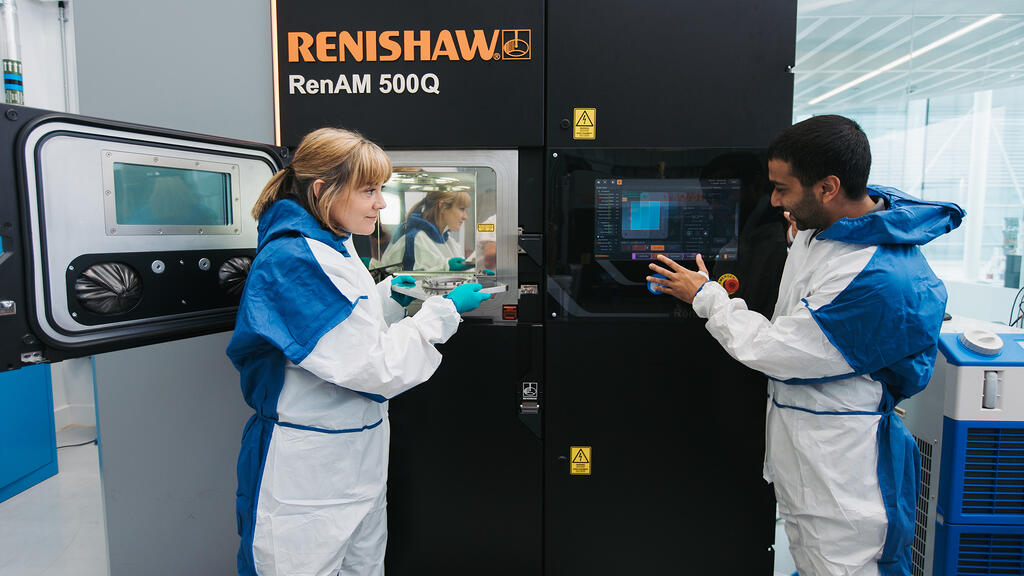 It's used to make aero engine components, medical implants, car parts, customised jewellery and even buildings. And it has the potential to become even more widespread, reducing waste and costs and increasing design freedom and mass customisation.
Here at the AMRC, we aim to accelerate the adoption and growth of AM technologies to increase the competitiveness and sustainability of UK manufacturing supply chains.
How additive manufacturing can help your business
Unlike traditional subtractive manufacturing where parts are machined from a bulk piece of metal, AM builds a component by adding and joining thin layers of material on top of each other to create the desired shape.
With AM processes, not only is there almost no waste material, but also complexity costs nothing. Unlike conventional manufacturing, AM enables fabrication of parts with complex shapes and complex material distribution, so design options are limitless.
AM also reduces the lead time from design to manufacture and testing. It does not require any special tooling or complex set-ups, which means you can change the design today and make the part tomorrow.
In this manner, more design iterations can be squeezed into a specified time enabling designers to validate their products quickly and easily.
Talk to us
Key capabilities
DED is used for repair applications or to add material on existing parts. With DED, we can take a part to near-net shape before it is machined to finish rather than machining all unnecessary material from the bulk.
We've demonstrated the applicability of this technique to make aeroplane components with a material saving of up to 35% and swarf reduction of up to 85%.
Hybrid manufacturing combines subtractive (5-axis milling) and additive (blown powder laser DED) processes on the same machine tool and leverages the most critical capabilities of both technologies: geometrical complexity and precision, even on features that are not possible to reach in a post-process.
We have the unique capability of Additive Friction Stir Deposition (AFSD) processing, not only in the UK but also in Europe, allowing us to produce parts with material properties like wrought materials.
Being a solid-state fusion process with no menting involved, AFSD can be used to process high-strength aluminium alloys.
With the highest level of technological maturity and widespread use in industry, PBF allows production of very detailed geometries with a good dimensional accuracy and resolution.
With PBF, we can work on the 'first-time-right' approach by utilising online process monitoring tools and process modelling, which are keys to digital validation.
How we can help your business
We work with businesses of all sizes, in everything from aerospace and defence to medical and construction.
We have the facilities and expertise to cover the whole AM process chain, which spans from design to post-processing, such as machining or heat treatments.
We can use polymer 3D printing to make prototypes from your designs so you can test them. If you're thinking of investing in AM but you don't know where to start, we can talk you through your options and point you in the right direction.
Or if you are an advanced user of AM technologies but have some challenges to be solved to increase your production speed, reliability, or accuracy, we are here to support you.