Cutting wasted product development time for knife maker
21 October 2020

Engineers at the University of Sheffield Advanced Manufacturing Research Centre (AMRC) have saved a knife manufacturer valuable time and wasted energy by simulating the manufacturing process and estimating the production costs of introducing additive manufacturing (AM) in its production process.

"We were given a definitive answer," said David Harris, General Manager of Gloucester-based The Safety Knife Company. "The answer may have been that unit price was going to be prohibitive and that we needed to look in a different direction, but it stopped us wasting our own time and money testing it out ourselves.

"We never would have got to that conclusive answer on our own without using the expertise of the AMRC."

The Safety Knife Company was formed in 1993 with a license from Bill Ireland who invented his pioneering Fish Safety Knife after a chance encounter with a farmer who had lost an eye when cutting a hay bale string.

Bill, 84, was working as an engineer at Dowty Group at the time and prototyped a knife with a fish-shaped handle which curves around the blade making it safer to use without compromising functionality. Originally marketed as a gardening product, now The Safety Knife Company products are a staple of warehouses around the world and in 2015 Bill was awarded an MBE in the Queen's Birthday Honours for services to innovation.

"The product we needed help with is called the ReAkta Knife which has a retractable blade. It was patented around 10 years ago, but we are yet to find a viable way of manufacturing the blade carrier," said David.

"Originally we had the part machined and more recently we have had them cast in aluminium; but both have meant an awful lot of quality problems and the components need to be fettled manually to achieve the required fit. What we wanted from the AMRC was to research how viable it would be to use additive manufacturing 3D printing to make this blade carrier part."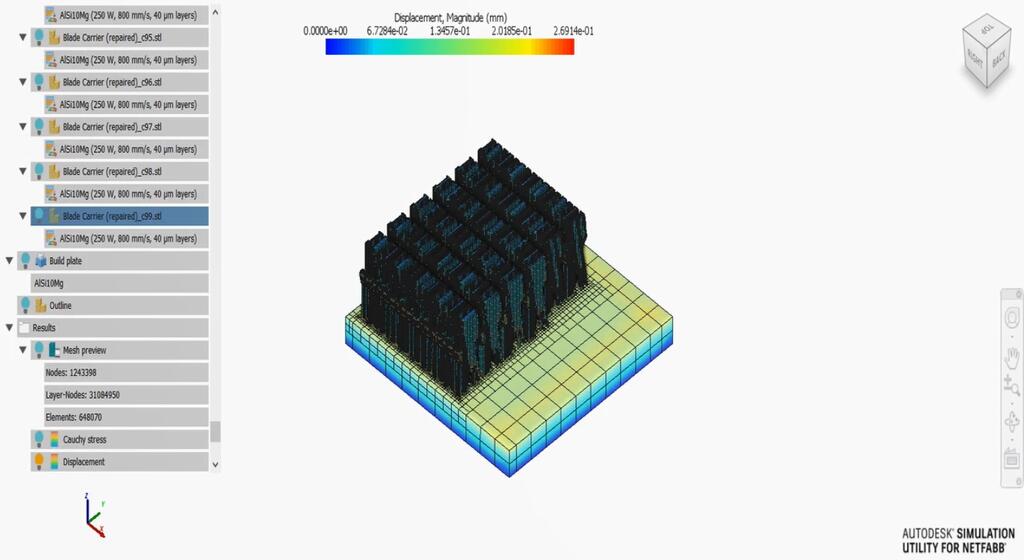 We know that any type of manufacturing issue that we might have in the future, we always have the option of approaching the AMRC to utilise their expertise and potentially help us again.
A team at the AMRC's National Metals Technology Centre (NAMTEC) conducted a feasibility study to determine whether Laser Powder Bed Fusion (L-PBF) is a suitable manufacturing process for the aluminium alloy components required for the blade carrier.
The AMRC is part of the High Value Manufacturing (HVM) Catapult and the project was paid for using funds from the HVM Catapult as part of a commitment to working with small and medium-sized manufacturers.
Project engineer at NAMTEC, James Cantle, said: "The Safety Knife Company wanted a new manufacturing process that would reduce manual fettling during the assembly stage of production. We were able to review component design in line with AM considerations, establish manufacturing process times based on the L-PBF process and use process modelling to identify production levels and the associated cost of manufacture."
James said they were also able to demonstrate how design principle changes and component modification could open the door to integrating additively manufactured parts: "We suggested some component modification to optimise the manufacturing process. Using honeycombing on the component saved a significant amount of weight and vastly reduced the material required."
David said: "The project was certainly extremely useful. We already knew the component could be 3D printed incredibly accurately, but we lacked the ability to determine if it was financially viable for us and it was invaluable to be able to put that task in the hands of people who knew how to find that out.
"Even though the conclusion was that it wasn't viable, at least we got to a point where we knew it wasn't an option and it has pushed us down the route of machining the component again."
David said the project has also opened his eyes to the potential of 3D printing: "Additive manufacturing is certainly in our minds. It is an option for us to consider as we go forward with other projects.
"Who knows what we are going to be doing, when we get back set up, in terms of product development. We know that any type of manufacturing issue that we might have in the future, we always have the option of approaching the AMRC to utilise their expertise and potentially help us again."