Dowty flying high with composite innovations
08 July 2021

Engineers from the University of Sheffield Advanced Manufacturing Research Centre (AMRC) have 'pushed the boundaries of the possible' for composite manufacturing as part of an ambitious £20m project to develop next-generation propeller blades for cleaner, cheaper air travel.

The AMRC, part of the High Value Manufacturing (HVM) Catapult network of research centres, supported private sector partner Dowty Propellers for the Digital Propulsion (DigiProp) research and development programme, which sought to innovate every aspect of the design, manufacture and testing of its propeller systems.

The impressive advances made by the AMRC Composites Centre include the scaling-up of triaxial braiding for complex geometry structures, development of an automated foam thermoforming process as an alternative to casting or machining, and successful use of robotic ultrasonic trimming for carbon fibre preforms.

Composites research engineers from the AMRC worked alongside HVM Catapult colleagues from the National Composites Centre in Bristol and the Manufacturing Technology Centre in Coventry on the four-year project, which was supported and funded by Innovate UK and the Aerospace Technology Institute (ATI).

"This project has delivered innovations in propulsion performance and cost through design and productivity which has helped to transform R&D for propellers," said Mark Scully, Head of Technology for Advanced Systems and Propulsion at the Aerospace Technology Institute.

"With the assistance of the High Value Manufacturing Catapult partners, the manufacturing innovation has been deployed into the new state-of-the-art Dowty facility in Gloucester. This provides an excellent foundation for Dowty and the UK to secure future sustainable aerospace opportunities."
This project has delivered innovations in propulsion performance and cost through design and productivity which has helped to transform R&D for propellers. - Mark Scully, Aerospace Technology Institute.
As demand for cleaner and cheaper air travel increases, it is vital that the UK maintains and extends its world leading capability in sustainable UK aviation propulsion technologies. Dowty Propellers said the subject matter expertise offered by the three HVM Catapult centres on both established and emerging technologies has allowed it to unlock some of the best, next-generation capabilities and innovations that the UK has to offer.
Henry Johnston, President at Dowty Propellers, said: "This is the biggest research project we have ever undertaken at Dowty and it couldn't have been better timed. We now have an advanced suite of new technologies, leaving us well positioned for the sustainable platform acceleration that is happening post-Covid."
The step change in manufacturing capability made by the consortium opens up new opportunities to grow the UK's aerospace propeller manufacturing base by harnessing composite technology with industrial digitalisation to cut production costs, and increase the performance of future propulsion systems in Europe's €200 billion aviation sector.
Dr Matt Smith, technical lead for composites simulation at the AMRC, said: "It was great to work with Dowty Propellers and our fellow HVM Catapult centres to solve problems and share information and expertise – that's what we're here for, to use our state-of-the-art equipment and skills to help companies de-risk R&D and develop their manufacturing process.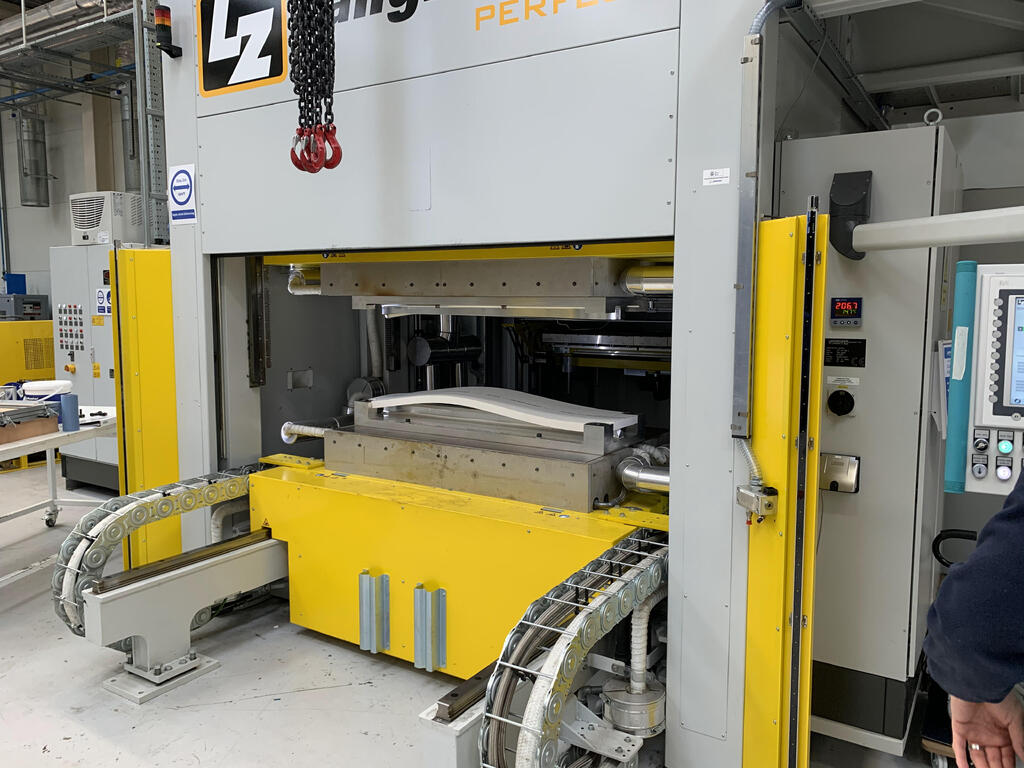 "Through the DigiProp programme, the AMRC Composite Centre has been able to push the boundaries of what is capable with composite manufacturing.
"With foam thermoforming, this level of complexity isn't something we've done before within the AMRC. Dowty Propellers was really interested and impressed with the results and wanted to continue this work beyond the end of DigiProp.
Through the DigiProp programme, the AMRC Composite Centre has been able to push the boundaries of what is capable with composite manufacturing. - Dr Matt Smith, technical lead for composites simulation at the AMRC.
"We've also succeeded in developing our triaxial braiding capability, overcoming the challenges of scaling up manufacture. We began on small scale trials at the University of Manchester with simple tubular structures and progressed on to real life spar geometry with the braid able to conform to the complex shape specified by Dowty Propellers."
The AMRC Composite Centre team has also proved the feasibility of stitching stacks of material prior to thermoforming into shape and trimming to size using an ultrasonic knife mounted on a robot arm.
"The ultrasonic trimming was really successful," said Matt. "The benefits of this technology is that prepreg stacks are stabilised in an efficient way for thermoforming; and that the ultrasonic cutting process can handle multiaxial cutting requirements."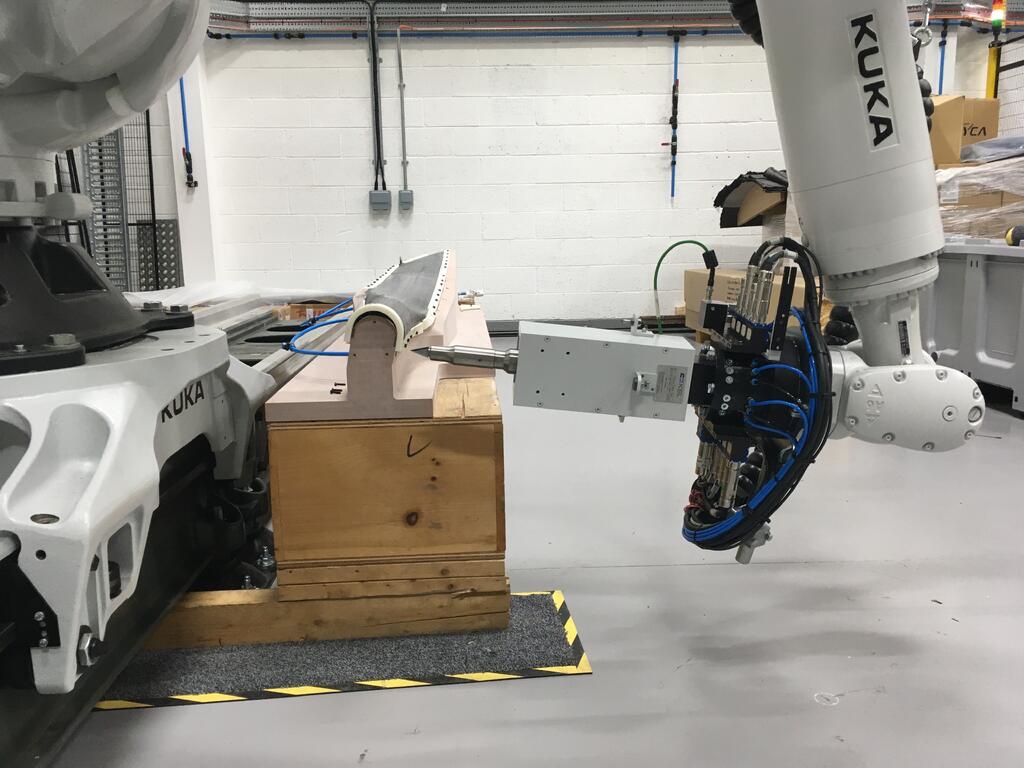 The composites and manufacturing expertise from the AMRC, MTC and NCC has transferred the complex technology of triaxial braiding into industrial reality, leveraging the directional properties of composites to deliver performance and strength, while maximising the benefits of lightweight properties to enable an overall blade weight reduction.
Other areas Dowty Propellers explored with partners during the project include the introduction of a digital twin during the development of Dowty Propellers' new factory, which not only optimised the factory's footprint but also identified process bottlenecks. The outputs deliver reduced manufacturing time and energy consumption, improved first time yield performance, and accelerated time to market for customers.
Through complex data models, the project will deliver system-wide aerodynamic and acoustic performance improvements for Dowty Propellers' customers and has laid the foundation for the use of big data with the creation of a digital thread.
Jonathan Chestney, Engineering Leader at Dowty Propellers, said: "The parametric propeller systems model we have developed allows us to use vastly more variables than a human mind could ever compute, allowing us to deliver thousands of years' worth of manual calculation in a matter of weeks. This gives our customers a faster design response and higher level of design optimisation than ever before."
Dowty Propellers is now beginning to use the next generation technologies realised in DigiProp for evolving aircraft applications and to target next-generation platforms. Potential customers are benefiting from its ability to support customer attribute trade studies with short turnaround time on performance analysis.
The AMRC Composite Centre is now looking for future projects across wider sectors. If you're interested in finding out more about our technology developments and how they can help solve your manufacturing challenges, read the full case studies below.
Related News
Ready, set, robot
The University of Sheffield Advanced Manufacturing Research Centre (AMRC) is inspirin …