Earning, learning and graduating
01 August 2019

The first AMRC Training Centre learners to achieve Bachelor of Engineering degrees have graduated alongside their academic peers at the University of Sheffield.

Paul Almond, David Brown, Mitchel Gannon, Oliver Heafield, Craig Horton, Antony Nixon, Joshua Parkin, Matthew Sheppard, Adam Siviter and Cameron Starkey are the first cohort to achieve the BEng with Honours qualification which offers a different route to traditional university study.

They were among hundreds of students honoured at graduation ceremonies hosted by the University of Sheffield at The Octagon on Monday, watched on by proud loved ones, lecturers, employers and AMRC Executive Dean and founder, Prof Keith Ridgway, who applauded them on their achievements.

Prof Ridgway said: "We feel a tremendous sense of pride for what they have achieved. It is wonderful to see them graduate and share a stage with their university peers.

"Some of them were among the first to come through the doors at the AMRC Training Centre and have left us as the highly competent, technically skilled new breed of young advanced engineers equipped to face the challenges of the manufacturing industry in the future."

This was echoed by Louise Cowling, head of degree apprenticeships at the training centre. She said: "These graduates have worked extremely hard to earn their degree. It is a demanding, technical degree with the academic rigour that you would expect of the University of Sheffield.

"Not only have these graduates achieved a good, or very good, degree, they have done so while working full-time in engineering or manufacturing roles. This is the distinctive and active ingredient of the degree apprenticeships – students are developing high level technical knowledge in advanced manufacturing, applying this to the workplace and having a significant impact on their employers' productivity and profitability."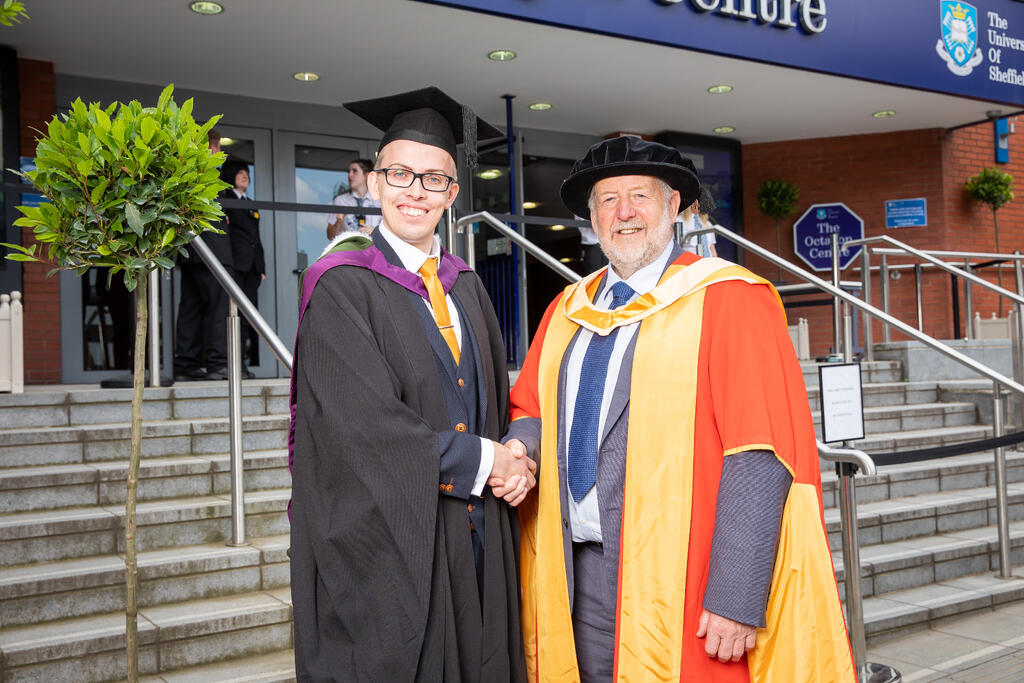 Craig Horton was among those celebrating. The 24-year-old is a research development engineer with Technicut, one of the founding members of the AMRC.
As part of his degree, Craig undertook a work-based industrial project that involved him look at cutting tool coatings, resulting in direct benefit to the company after the coatings he tested were implemented on the tools manufactured by Technicut.
"It's great to be here and to graduate. It's been hard work but I feel I'm bringing to my company the skills of a graduate but also the skills of an apprentice that has learned hands-on.
"Anyone who may be in two minds about an apprenticeship, I would encourage them to go for it. It's the best experience I have had in my life and has really set me up."
Warwick Spearing, Manufacturing Director at Technicut, said "Craig is an excellent engineer and a great ambassador for Technicut, underpinning the value we place on apprentices and the key role they play in developing the business for the future."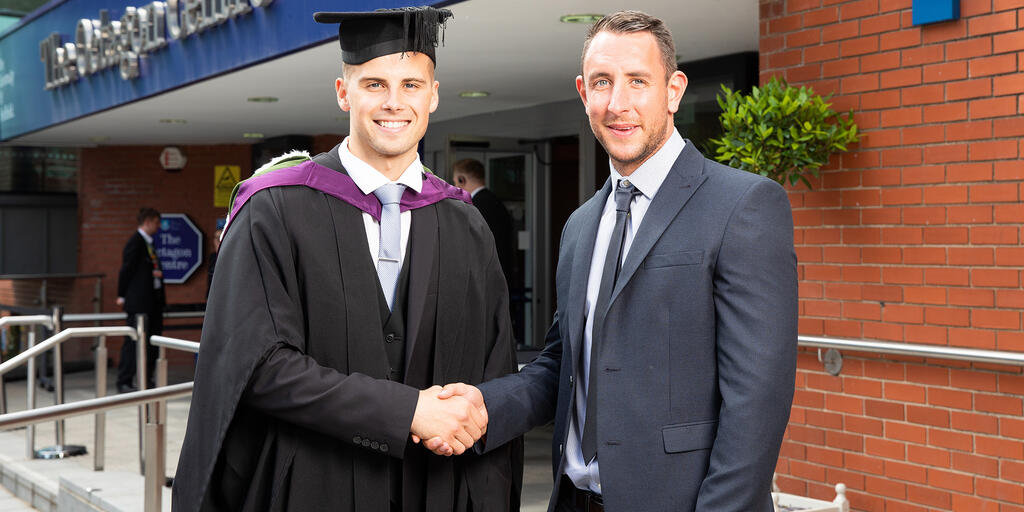 Also in high spirits was Mitchel Gannon, 23, who achieved a first class BEng degree. An employee with Rolls-Royce, Mitchel says his apprenticeship has not only given him the practical engineering skills needed to hit the ground running but also the critical theory to underpin these necessary skills.
Mitchel's tenacity and fresh ideas have already helped make his company a cost saving on a project.
"For me choosing an apprenticeship - working at the same time as learning - was key and really suited my needs. I did try out doing the traditional route and decided, it just wasn't for me. An apprenticeship was a much better fit for what I wanted to achieve.
"I'm really proud of what I've achieved and to come through the other side after all the hard work is very rewarding."
Ryan Harlow, Manufacturing Engineering Manager for Rolls-Royce, attended the ceremony. He said: "Mitchel has come in with a fresh pair of eyes and fresh ideas.
"I came through the apprenticeship route myself and will always support apprentices. Apprentices at Rolls-Royce play a very valued role. They play a key part in the team helping to continuously improve our processes and find opportunities to make cost savings.
"Apprentices when they join the team are incredibly keen to learn. They want to influence, learn skills and build knowledge from the team which makes them a real asset to the team and Rolls-Royce."
Paul Almond, 38, of Barnsley, works for Liberty Speciality Steels. He says his degree programme, delivered through the AMRC Training Centre, has given him a major confidence boost.
He said: "I feel I have become a more rounded person and engineer.
"My experience at the training centre was absolutely fantastic. Being 38 and a mature student - and having three kids as well - it's been hard studying at home but the support the AMRC Training Centre gave me was second-to-none.
"My company invested in me and they were absolutely fantastic as well; giving me time off, paying for my courses and paying my wages as well. I couldn't ask for more.
"I never thought I would get a degree so it feels amazing to graduate, sitting here in my cap and gown."
Tony Goddard, Liberty Speciality Steel's Training Delivery Manager, said: "I'd like to extend congratulations to Paul and all other of our employees who have graduated this year. We as a business are committed to funding employees in their pursuit of further education qualifications as we realise how important this is to the development of the individual and the needs of Liberty Speciality Steels."
The AMRC Training Centre works hand-in-hand with business to develop an environment that is challenging and stimulating but ultimately rewarding. It is also part of the University of Sheffield, which means learners receive a degree a from a world top 100 Russell Group University.
For more information on the AMRC Training Centre Degree Apprenticeship programme, which is designed in partnership with academic staff and employers to ensure students can graduate equipped to meet current and future needs of the advanced manufacturing sector, visit: www.amrctraining.co.uk/degree-apprenticeships.
Related News
TRAM UK 2015
10-11 November 2015 Magna, RotherhamTRAM (Trends in Advanced Machining, Manufactu …