Exercise device rocking on with AMRC
09 June 2021

Design engineers at the University of Sheffield Advanced Manufacturing Research Centre (AMRC) have supported a Sheffield businessman to develop his foot and leg exercise device, and explore options for taking it into production.

Adam Yusuf, founder and Director of Active Legs, had the idea for the rocking device when he was travelling back and forth from Manchester to Dubai several times a year.

"The idea for Active Legs came to me while squashed in economy class for seven and a half hours, unable to do any kind of exercise," said Adam. "I wanted to create a way of exercising the legs and feet using a small, portable device people could take with them on an aeroplane, where weight and space is at a premium."

While the initial and predominant target market for the product is long haul passengers, the AMRC has also supported Adam to explore further potential markets such as the elderly and less mobile people, and those undergoing physiotherapy or rehabilitation. The device is currently awaiting a semi clinical trial with Sheffield Hallam University.
I want to spread the word and say there is excellent professional help out there to make things happen for you.
Marcus Crossley, Senior Project Manager in the AMRC's Design and Prototyping Group, said: "Adam at Active Legs is a man with an idea who needed some help turning it into a reality. That's where the AMRC came in.
"We worked with him to explore design ideas, and various options for materials and manufacturing processes, for his foot rocking device. One of the things we've worked on in this project is bringing a digital element into the device to track how much movement has been made.
"To take this idea forward, it may be that an app developer or small digital business will be best placed to assist. An important element of the support we can offer to SMEs is signposting. We won't always be the best people to take the next steps with a business, but we often know who might be, and can put SMEs in touch with different organisations."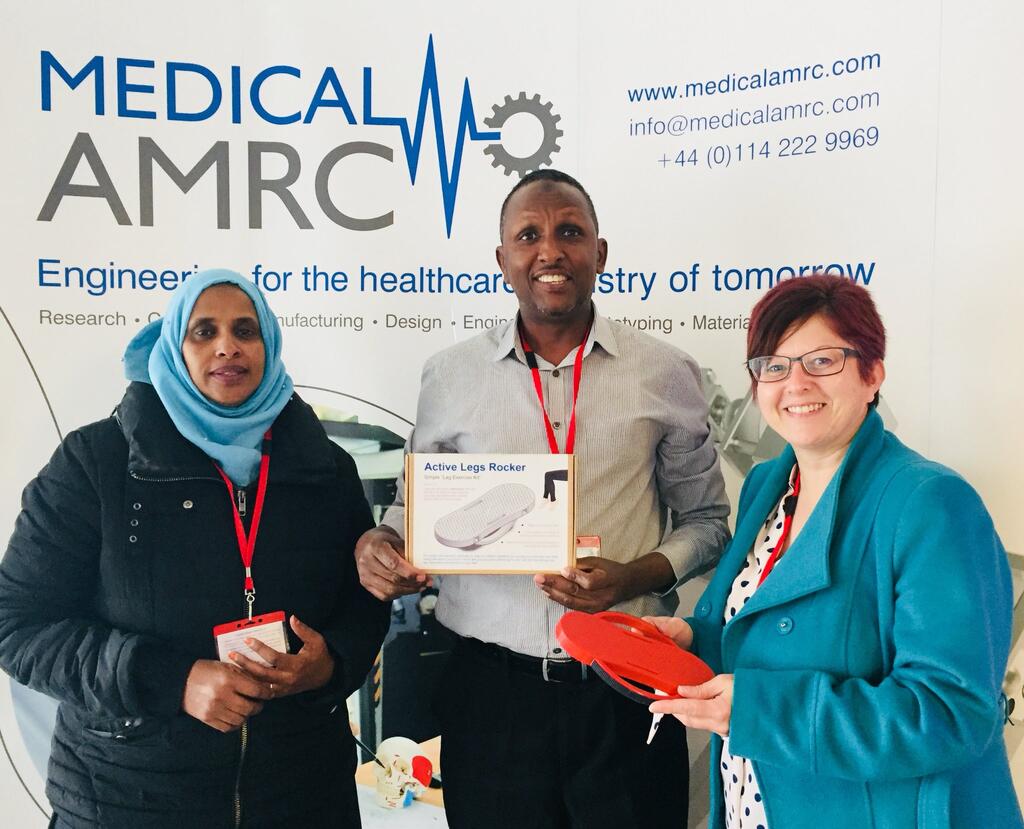 In collaboration with the iForge at the University of Sheffield, with the expertise of university students, Active Legs will now also take the prototype to the next stage and add digital functionality, including wireless communication and a proof-of-concept app.
The AMRC, as part of the High Value Manufacturing (HVM) Catapult, supports businesses to explore development opportunities they wouldn't otherwise have access to. The project was paid for using funds from the HVM Catapult as part of a commitment to working with small and medium-sized enterprises.
Adam Yusuf, who is equally the Chair of the Sheffield Somali Community Association, added: "I know people from Somali and other Black and Ethnic Minority communities often don't access support like this for their business ideas, and I want to spread the word and say there is excellent professional help out there to make things happen for you. The AMRC is an iconic UK brand famous for working with Boeing, Rolls Royce and McLaren. But they will also work with me, a person from an ethnic minority community with an innovative idea.
"Working with the AMRC has been helpful, not only because of the improvements they've supported me to make in my design, and the exploration of different ideas for developing this product, they've also brought real credibility to my business."
Related News
Mimic the brilliance
The leaders of an audacious £20 billion transformation plan for Australia&rsquo …