Made in the North: the ultralight wind turbine blade promising greener, cleaner energy
02 July 2020

'Game-changing' technology adapted from the sailing industry has been used to develop an ultralight offshore wind turbine blade capable of producing more energy than conventional designs.

The novel lightweight composite blade structure, which is wrapped in a high-tech engineered sail-like textile shell, has been developed by UK yacht-sail developer spin off ACT Blade. It is up to a third lighter compared with typical fibreglass blade designs, can be made longer to generate more energy and, ultimately, has the potential to make offshore wind - already one of the cheapest major energy sources in the UK - even easier and cheaper to harness.

The first prototype produced under the Innovate UK-funded project was manufactured and tested in collaboration with a consortium of northern research partners that includes the University of Sheffield Advanced Manufacturing Research Centre (AMRC), the Lightweight Manufacturing Research Centre, sister centre to the University of Strathclyde's Advanced Forming Research Centre (AFRC), both part of the National Manufacturing Institute Scotland, and the Offshore Renewable Energy (ORE) Catapult.

Dr Sabrina Malpede, chief executive of Edinburgh-based ACT Blade, said: "The novel ACT Blade is a tensioned textile-covered wind turbine blade that can actively change shape to control loads. It is 32 percent lighter than conventional blades, enabling it to be ten per cent longer and directly contributing to the production of nine per cent more energy."

She explained that the blade's power to disrupt the market lies in its reduced manufacturing costs.

"The ACT Blade is not only the lightest but also the most modular blade," said Dr Malpede. "That means we use components that can be manufactured in parallel, using smaller and therefore cheaper tooling, reducing costs by 60 per cent. It also requires lower space - its factory will be 47 per cent smaller than those of conventional blades - and lower energy which makes the manufacturing process less expensive compared with that of conventional blades."

The AMRC's John Halfpenny headed up the Sheffield team that worked on a 13m prototype blade alongside High Value Manufacturing (HVM) Catapult colleagues at the Lightweight Manufacturing Centre.

John, who is technical lead at the AMRC Composite Centre, said: "This is a completely new type of offshore turbine blade developed by ACT Blade that could be a major disruptor in the renewable energy sector.

"Through cross-Catapult collaboration we have been able to combine and apply our world-leading expertise in lightweighting, advanced technologies, composites design and manufacture to take ACT Blade's innovative idea, develop and improve the design to increase strength, stiffness and stability of the blade, and then assist with the novel manufacturing process."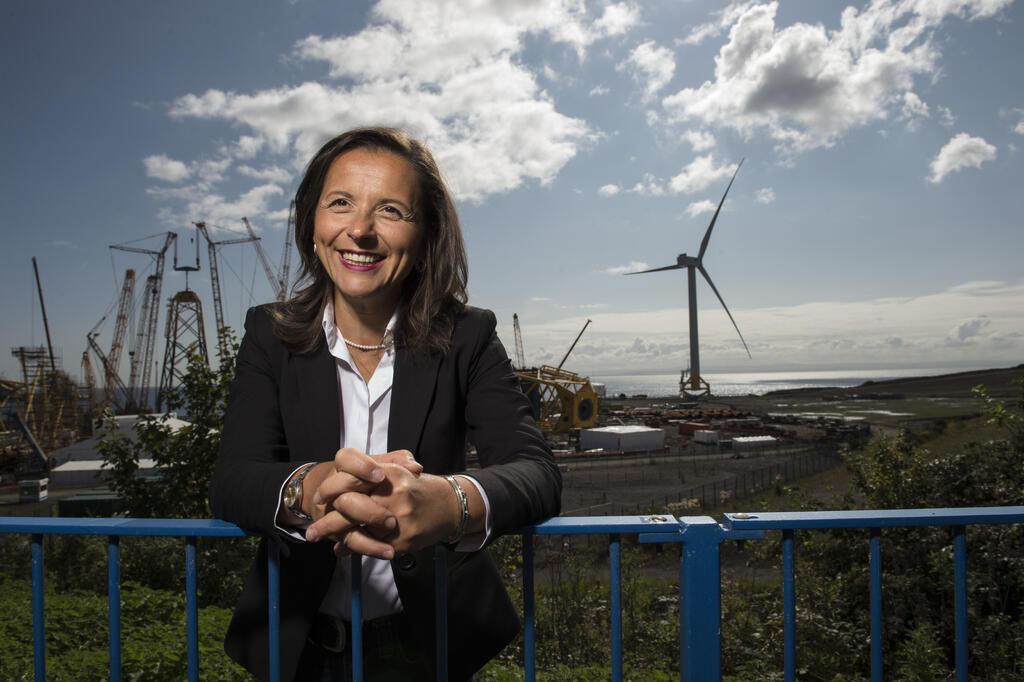 Dr Malpede said the AMRC was 'the right partner' to support the design and manufacture of the ACT Blade concept.
"As a micro-innovative start up, we have a small but highly competent R&D team in aerodynamic structure and composite design," she said. "As we were engaging with the engineering of the first prototype, we knew the AMRC was the right partner for us - providing the design for manufacturing support, assisting with advanced finite element analysis and, ultimately, supporting the manufacturing process."
The AMRC undertook the crucial Finite Element Analysis (FEA) work to validate the new blade design. This allowed John and his team to locate potential problems in the design, including areas of tension and weak spots, before producing CAD data to optimise the structural design of the prototype. They also designed patterns, moulds and associated fixtures to manufacture the first blade.
John explained that turbine blades are being made longer to generate more energy, but are becoming heavy and expensive to produce, install and maintain. He said the ACT Blade manufacturing process is less energy-intensive compared with that of conventional blades - offering significant cost, sustainability and environmental advantages.
"The ACT Blade is lighter, lower cost, has increased efficiency and will be easier to recycle," explained John. "This is a real game-changer for offshore renewable energy with considerable benefits to be gained - not only by new wind farm developers but for existing wind farm operators - to improve performance, reduce costs and cut carbon emissions in the manufacturing process.
"It is a great example of how technology can be adapted from one sector to create something truly ground-breaking in another industry."
Professor Iain Bomphray is Director of the Lightweight Manufacturing Centre (LMC) which is hosting the ACT Blade development, supporting the engineering and manufacturing of the new technology.
He said: "Wind energy is a natural energy source but even this clean energy source can be made even more sustainable still, by reducing the carbon footprint associated with the manufacture and transport of parts and by making the harnessing of the energy more efficient.
"The LMC was established as a centre of excellence for innovative lightweight solutions, with the aim of helping manufacturing businesses large and small to overcome the challenges of the modern world. Our cross-Catapult collaboration working with ACT Blade on this exciting technology has allowed us to do exactly that."
We knew the AMRC was the right partner for us - providing the design for manufacturing support, assisting with advanced finite element analysis and, ultimately, supporting the manufacturing process.
The UK is the world leader in offshore wind, with more installed capacity than any other country. Already, offshore wind powers the equivalent of 4.5 million homes annually and is set to power more than 30 per cent of British electricity by 2030. But industry is always looking for ways to innovate, reduce cost and increase efficiency.
ACT Blade, founded in 2015, developed its novel blade concept in response to an innovation challenge launched by ORE Catapult, tasking companies to improve the performance of wind turbine blades and enable industry to 'generate cleaner, greener power in ever deeper waters'.
Dr Malpede, who made her name designing super-fast sails for yachts, responded to the challenge with a game-changing idea: take the light, durable structure of yacht sails and adapt the technology to improve the performance of offshore wind turbine blades.
The 13m prototype was completed in February this year and testing began soon after with static tests completed at ORE Catapult's National Renewable Energy Centre in Blyth in April. Results showed the blade could withstand extreme loads and every type of direction and twist, going beyond those predicted for an in-service turbine.
Dr Stephen Wyatt, Director of Research and Disruptive Innovation at ORE Catapult, said: "This is great news for the development of novel wind turbine blade designs, ensuring we can continue to improve offshore wind productivity and reduce costs, embedding offshore renewables at the heart of the UK's future energy mix.
"The ACT Blade team has pushed the limits of what is physically possible, putting UK technology in pole position in the innovation race. It's also an inspirational story, showing how an Eureka moment can be turned into a future export that could generate billions in revenue for the UK. We've come a long way since Sabrina first answered one of our Innovation Challenges back in 2015, and I am excited to see the journey ahead."
The blade is now undergoing further testing and in the coming months ACT Blade will work with the Energy Technology Centre to prepare for installation of three blades on a working wind turbine at the Myres Hill Wind Farm in Scotland.
Related News
Composites Machining
Date: 21st September 2016As industries such as aerospace, automotive and renewabl …