Medical AMRC test the boundaries of new 3D printer to create demonstration model for surgeon
28 March 2017

Engineers from the University of Sheffield Medical AMRC have used a new 3D printer to create a model of a human labyrinth, or the inner ear which deals with hearing and balance.

Glen Watson, an ENT Surgeon at the Royal Hallamshire Hospital needed a more accurate model to help him demonstrate benign paroxysmal positional vertigo (BPPV) to patients and educate them about possible treatments.

After a chance meeting with an AMRC engineer, it was decided that a new piece of 3D printing equipment acquired by the AMRC could be used to design and build a model for Glen that would fulfil his requirements.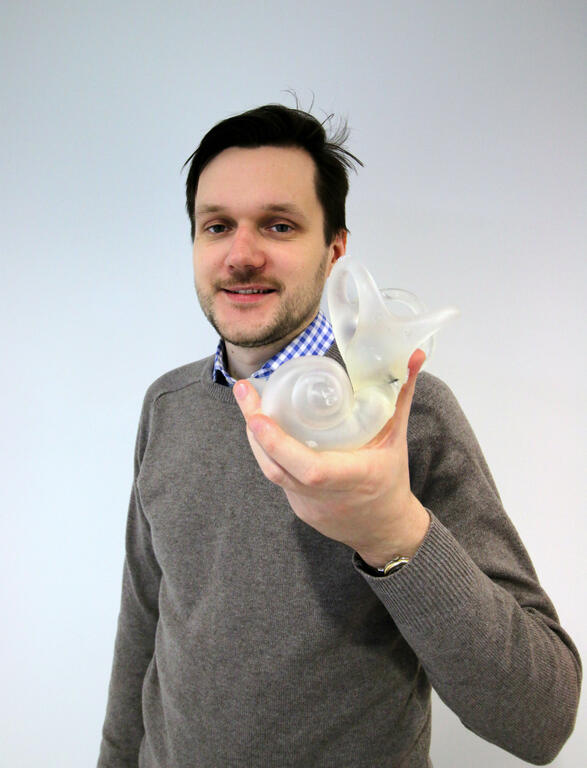 BPPV is caused by displaced calcium carbonate crystals from one part of the balance organ into another part (thesemi-circular canals) that stabilise vision on head movement. As a result of crystal debris floating around in the canals, confusing signals are sent to the brain causing brief but intense spinning sensations on looking up, down and often turning over in bed.
A simple but effective treatment is to recognise the condition and perform a liberating or repositioning manoeuver, to move the crystals into a part of the balance organ where they cause no further problem; akin to completing a ball-in-a-maze puzzle.
Glen Watson said: "Most of the models of the labyrinth concentrated on the cochlea with limited, or no models demonstrating the disease process of BPPV in the semi-circular canals. This made it difficult to explain BPPV to patients and explain how it is treated.
"When I talked about "crystals" that were loose in their head I often received odd looks! The model that Medical ARMC has produced on their 3D printer will enable patients to visualise what is happening and understand the disease in a simple fashion."
The Medical AMRC decided to test the limits of their new FormLabs Form2 3D resin printer and offer to design and print a model of the labyrinth, demonstrating the semi-circular canals, free of charge as a test piece for their new capabilities. The model would be complete with movable crystals that could be seen from the outside.
AMRC Project Engineer, Valdis Krumins, said: "The project for Glen helped us commission and test our new Form2 3D printer. It was a useful learning process stretching the capabilities, and using the whole working envelope of the machine.
"Laser printing in resin allows us to print in translucent material and in high-definition with small intricate details compared to standard fused deposition modelling processes."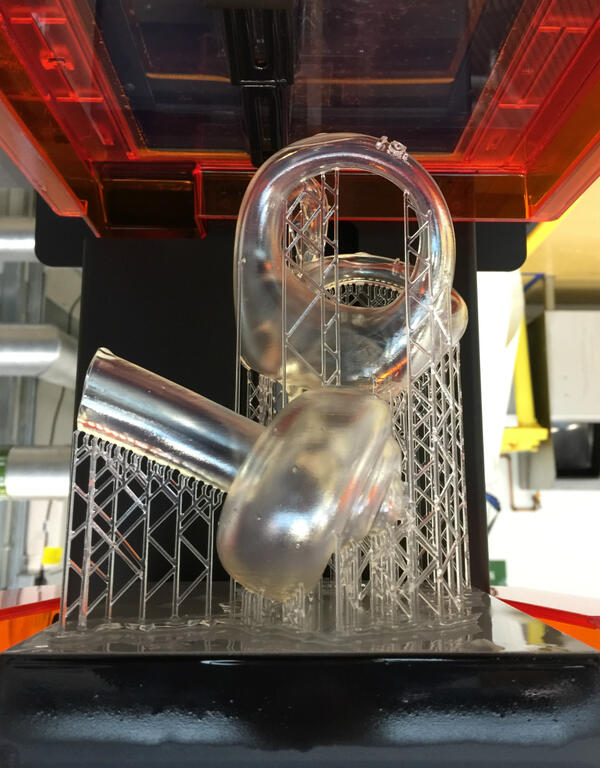 AMRC Senior Project Manager, Marcus Crossley, said: "The benefits of the Form2 3D resin printer is that you can work quickly, at a high resolution and in translucent material. We could print a hollow, anatomically accurate 3D model filled with liquid and ball bearings to imitate the behaviour of the crystals inside the canals. This could be seen through the material, so Glen can demonstrate the movement of them within the ear to the patients."
"As well as it being a simple but effective visual aid for the benefit of patient understanding, it is also a useful teaching aid for current junior ENT trainees, nursing staff and medical students. There's a definite potential market for them in the future," added Marcus.