Primary Engineer awards showcase young people's 'ingenuity and creativity'
12 July 2023

A power aid designed to help a person with memory function, directions, warnings, and hearing better scooped the top prize at a presentation ceremony for the Primary Engineer Leaders Award competition held at the University of Sheffield Advanced Manufacturing Research Centre (AMRC).

The competition inspires school pupils aged three-19 to take an interest in engineering by asking one simple question: 'If you were an engineer, what would you do?' They were tasked with interviewing an engineer, identifying a problem they see in the world around them and design a creative solution for that problem.

Judges praised the innovative 'power aid' idea by nine-year-old Elsa Marie Moorhouse for its 'versatility and originality'. Elsa, a year four pupil at Wath Central Primary School in Rotherham, beat more than 3,000 entries from the Yorkshire and Humber region to win the overall award and said the idea was inspired by her mum.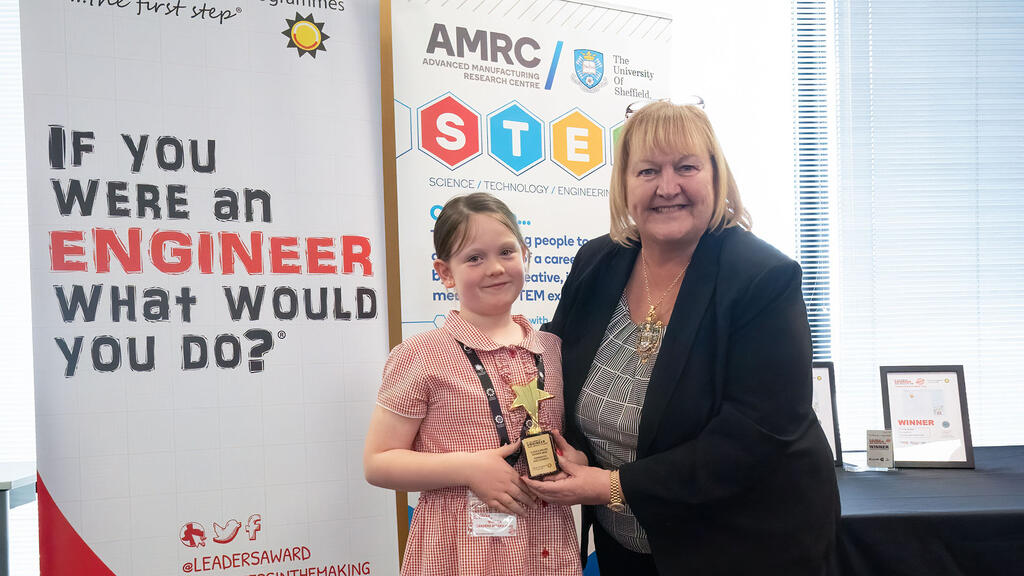 "I was really excited when we got the email at school saying I had won an award and I couldn't wait to tell my mum," Elsa said. "The idea for the power aid came from my mum as she can't hear out of one of her ears and she forgets things sometimes – so I thought this was something I could do to not only help her, but to help other people too.
"I was really surprised to win the judges award as well because I didn't expect it to be me. I never get awards like this and I feel proud and happy. It has now made me want to think of more inventions."
Elsa was presented with a special, one-off trophy for being the overall judges winner, alongside her year four winners accolade, certificate and goody bag. The university will then select a couple of ideas from this year's pool of entries to turn into prototypes to be revealed next year.
Emily Connolly and Luc Dewulf from The iForge, a student-led makerspace and engineering workshop run by students for students, based within the Faculty of Engineering at the University of Sheffield, unveiled three prototypes from ideas submitted in last year's awards at the presentation evening – which included a pill crusher, pen sucker and medicine helper.
This year's competition, celebrating its tenth year, saw over 48,000 pupils take part across the UK. The 3,100 submitted from the Yorkshire and Humber region were whittled down to 250 shortlisted entries. A judging panel including engineers from the AMRC and University of Sheffield, alongside engineers from other neighbouring manufacturing firms, had the job of selecting two highly commended and two winning entries from each year group, which spanned reception classes through to year nine in secondary schools.
The pupils, which included five winners and three highly commended from South Yorkshire, received their awards and certificates at a presentation ceremony at the AMRC's Knowledge Transfer Centre in Rotherham.
The Primary Engineer Leader Award is a great way for young people to be involved with STEM (Science, technology, engineering and mathematics) – the AMRC and University of Sheffield AMRC Training Centre, is committed to encouraging children to take up careers and apprenticeships in these topic areas.
Cathie Barker, STEM coordinator at the AMRC, said: "This is the third time the AMRC and AMRC Training Centre has been involved with the Primary Engineer Leaders Award. It asks such a simple question and yet invokes so much creativity and innovation.
"As someone whose role is to work with young people in promoting STEM and careers in engineering as a potential opportunity, this is a fantastic tool. It is completely inclusive and allows children to be creative and inspires their thinking. It also ignites their interest in the wonder of the world in which we live in and if they became an engineer, how they could change the world for the better.
"For the AMRC and AMRC Training Centre, this competition gives us the opportunity to speak with such a wide variety of young people about apprenticeships and other opportunities in engineering and reach out to other underrepresented groups, particularly females. I am absolutely delighted to support Primary Engineer again this year and hope that this partnership continues."
The awards evening also saw a visit from special guest Dame Julie Kenny, Master Cutler for Hallamshire and chair of trustees for the Wentworth Woodhouse Preservation Trust, who is keen to see more young people think about careers in engineering.
"The country has got such a lack of engineers and this is why we want to inspire young people and children to actually get involved and think creatively," said Dame Julie. "It's events like this that absolutely gives them the initiative they want and to also gain an understanding of other people's ideas, enabling them to go ahead and become the engineers of the future."
Nathalie Cachet-Gaujard, head of partnerships for Primary Engineer for the North of England, said she was extremely pleased to have the Yorkshire and Humber region's awards ceremony at the University of Sheffield AMRC, as the last in-person event hadn't taken place since before Covid.
"The AMRC as a host venue provides a great opportunity for kids to come and start to get an understanding of engineering and what is done here, it works extremely well," she added. "We had a big turnout, more than we expected and it was a real pleasure to see.
"As this year marks our tenth year, this awards presentation felt extremely special and it was great to see so many entries look at how the pupils will identify a problem very specific to them, someone very close and want to help. They think 'how am I going to solve this problem and design/find a solution'. Other entries look at global challenges and we see a lot of understanding and concern from young people about the planet and pollution – and a lot think about how they can make this better.
"All the entries we have seen across this region really showcase a lot of creativity and ingenuity about the future. Ultimately, this generation will have to solve a lot of challenges, so it's really nice to see that this is on the way."