Schoolchildren flourish as young engineers
15 July 2019

Schoolchildren from Barnsley and Sheffield engineered their way to victory at a celebration day recognising the creativity of the Sheffield City Region's budding young innovators.

The Primary Engineer celebration event was held at the University of Sheffield Advanced Manufacturing Research Centre (AMRC) which teamed up with the not-for-profit organisation last year to develop local teachers' engineering skills and inspire children to see themselves as future problem-solvers.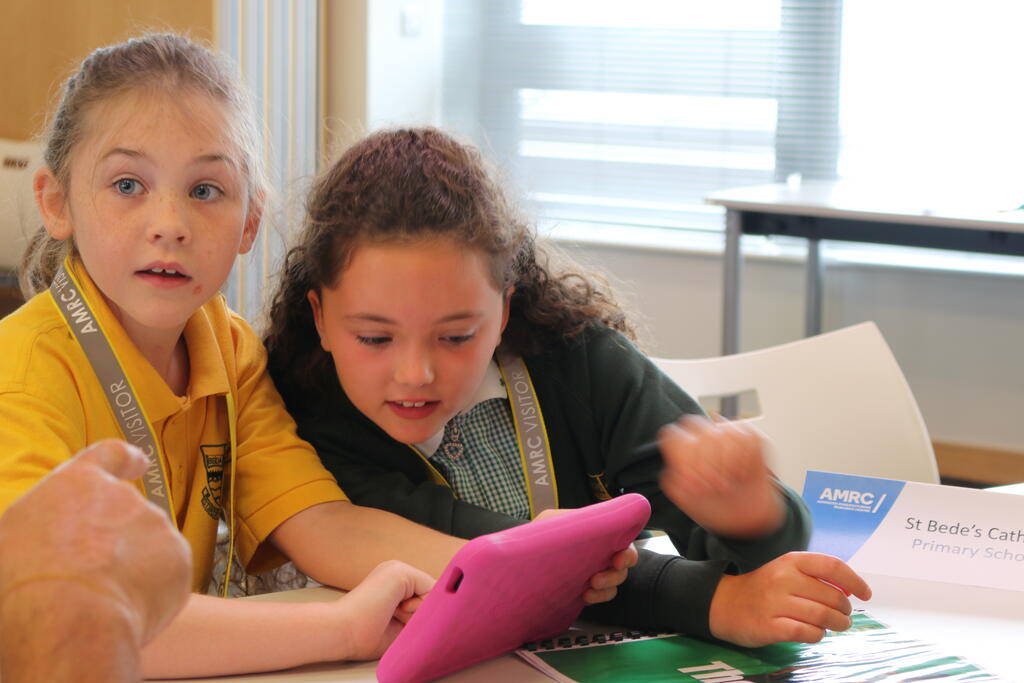 It culminated in a special celebration day with pupils from 11 primary schools and two secondary schools descending on the AMRC to put their classroom creations to the test to determine who would be named worthy winners.
Primary schools revved up with racing cars made from basic materials and judges including AMRC CEO Colin Sirett and bid writer Dr Nicola Ridgway looked at the best models put forward by each school and interviewed pupils to judge their designs and creativity before putting the cars through their paces in an uphill or downhill challenge.
Summer Lane Primary, in Barnsley, won the 'Engineer' level award and Netherthorpe Primary in Sheffield were named 'Apprentice' level winners. Neve Mahoney, ten, from the winning Summer Lane Primary team said she didn't expect them to finish in pole position.
"It feels really good," said the smiling youngster as she clutched her certificate and medal presented by Nikki Jones, Director of the AMRC Training Centre which has supported the Primary Engineer / AMRC partnership.
"Some parts were difficult and some were easy but we've enjoyed it all," said Neve. "Engineering is something I'll definitely think about because I know a lot more about it now than I did before."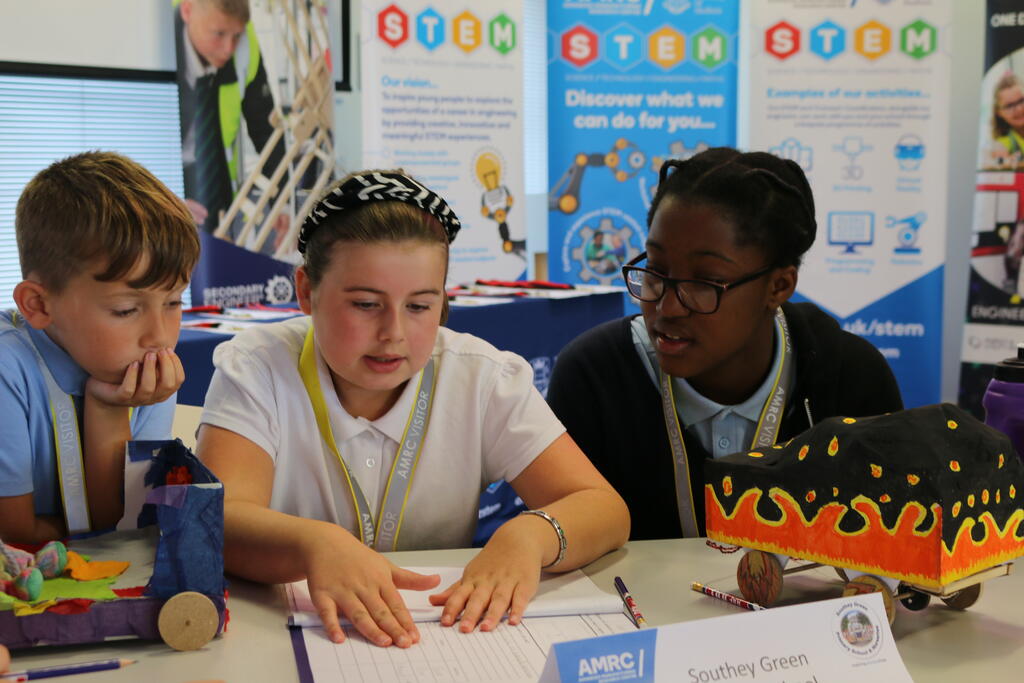 Nikki Jones told the children they had displayed all the skills of budding engineers. "I am so impressed by you all. You are amazing. I hope we see you in a few years' time as apprentices at our training centre."
Summer Lane Primary teacher Rachael Cook said the scheme had been brilliant and had opened the children's eyes to the opportunities of engineering. "These are children who are really coming through and flourishing in STEM subjects," she said. "The fact that this links to real life is good as well because as a primary school we are trying to develop and think about the long term goal for these children."
Two secondary school teams from Handsworth Grange and one from Stocksbridge High had to make fluid-powered pick and place robots from scratch using saws, drills, glue guns, wood, dowels, tubing and syringes. They then had to demonstrate the robot's capabilities by lifting and moving an item from a marked area onto wooden blocks of different heights.
Mohammed Ali, 14, was part of the winning Handsworth Grange team whose robot achieved the highest score in the pick and place challenge, pushing them ahead of the other two teams.
Mohammed, whose job was construction co-ordinator, said: "We've been working on it about six weeks and staying after school, in our own time, to do it. We struggled with some bits but we aimed to win and we did."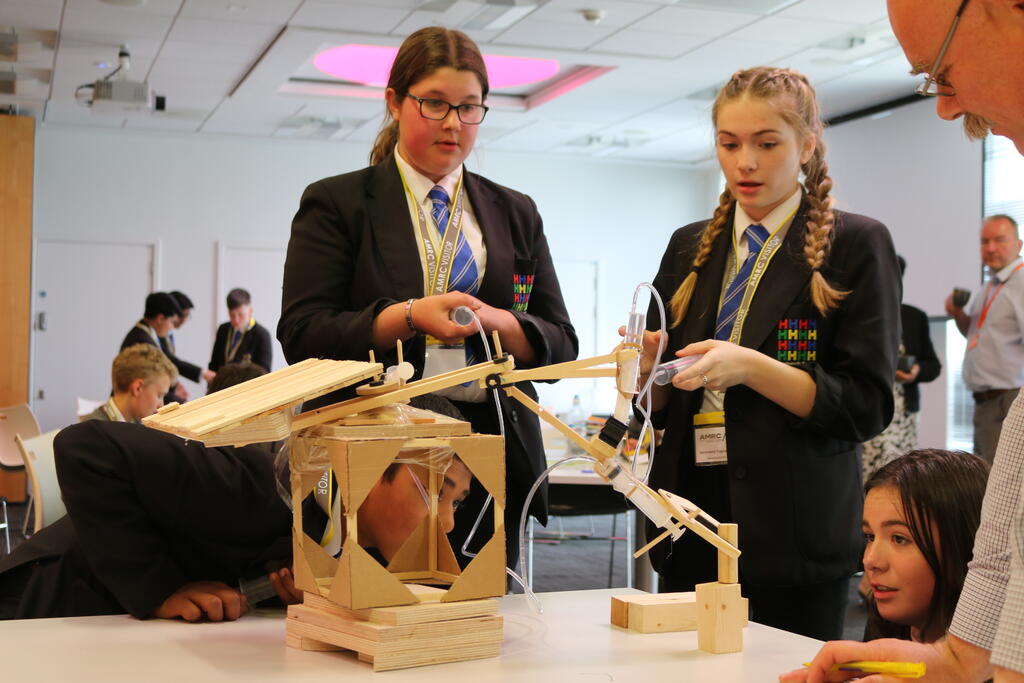 Jon Barker, Quality Manager for apprenticeships at the AMRC Training Centre, presented the secondary school teams with certificates and medals, and awarded the overall winner trophy to the Handsworth Grange team.
He said: "You have shown great skill and aptitude and it's wonderful. We are working hard to inspire young people to take up engineering – the country needs more engineers – and I hope you have seen that it is an inspirational field to work in.
"What you have achieved here today is fantastic. You should all be very proud of yourselves, I know I am."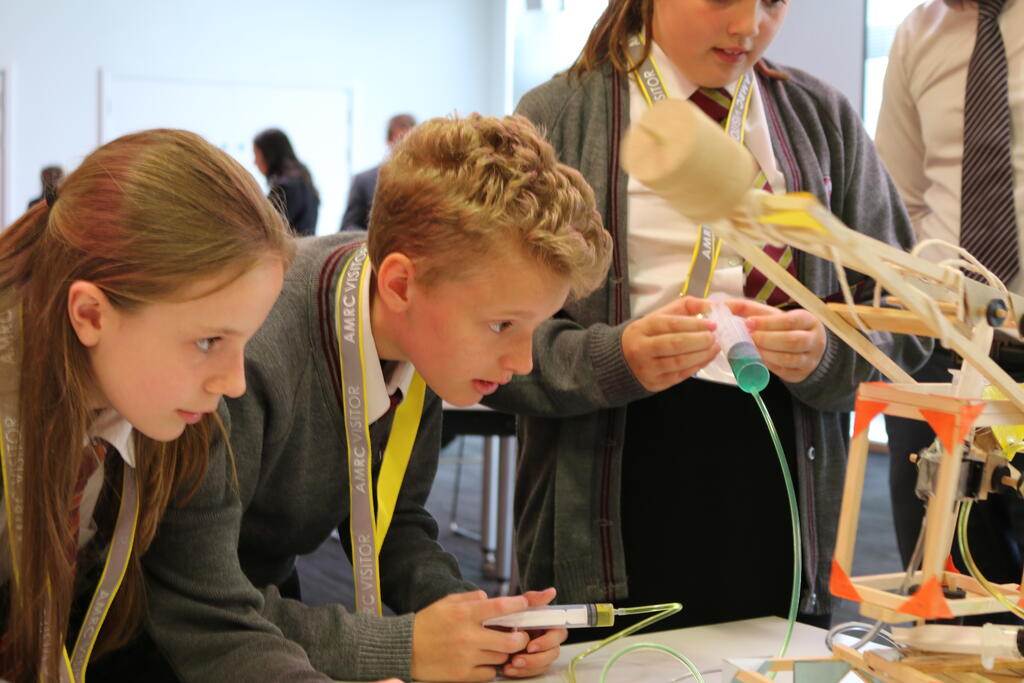 The Primary Engineer programmes saw teachers from across the Sheffield City Region partnered by engineers from the AMRC and, through the Primary Engineer and Secondary Engineer training programmes, were shown how to deliver activities that bring engineering to life in the classroom.
Each school worked with the AMRC for engineering support and guidance as well as having a direct link to an engineer that went into schools to support sessions, run workshops, give assemblies and generally be helpful.