Sheffield universities team up to launch new degree-level apprenticeships to plug engineering skills
10 November 2016
Announcement marks first cross-city collaboration in engineering
Apprenticeships will offer alternative route into HE while gaining paid-for work experience
Programme will meet industry needs by plugging vital skills gap
Degree apprenticeships give young people the opportunity to study at university and have paid-for work experience.
The University of Sheffield and Sheffield Hallam University have announced a pioneering new degree-level apprenticeship programme to help plug a vital engineering skills gap in industry and provide an alternative route into higher education for young people.
The Universities have been successful in a bid to the Higher Education Funding Council for England (HEFCE) to develop and launch the new programme, aimed at meeting the needs of employers in the Sheffield City Region and beyond, for skilled engineers.
This is the first cross-city University collaboration in engineering and will use the strengths of both universities to extend the engineering apprenticeship offer in the city in line with industry needs.
The project will use the expertise of the University of Sheffield's highly successful Advanced Manufacturing Research Centre (AMRC) Training Centre and Sheffield Hallam University's multi-disciplinary Materials and Engineering Research Institute (MERI).
Degree apprenticeships, funded by a combination of employer payment and Government support, are designed to offer young people the opportunity to pursue study at university alongside real-life work experience.
The new degree apprenticeships will begin in September 2017 and build on the strong base of the existing University of Sheffield degree apprenticeships provision.
From September 2017, 90 apprentices will begin to study for degrees in Integrated, Materials and Rail engineering as well as achieving professional accreditation alongside their employment, with the opportunity to progress to study at Masters level. The curriculum will be developed with employer input, and will use the latest learning technologies to support the students.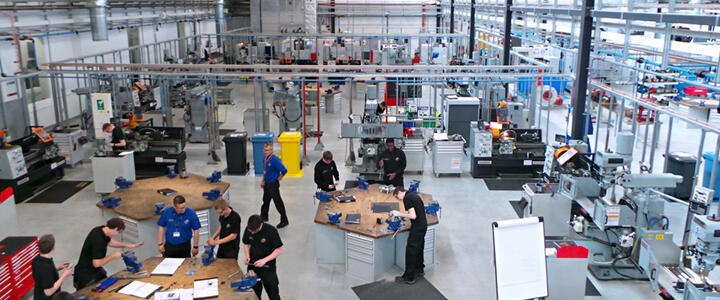 Professor Sir Keith Burnett, Vice-Chancellor of the University of Sheffield, said: "Filling the skills gap in engineering is a crucial issue for the UK's economy. Universities have an important part to play in developing this workforce that will play a key element in driving economic growth.
"I am delighted that the University of Sheffield is able to work with HEFCE and Sheffield Hallam University to develop this innovative new degree-level apprenticeship programme that will provide young people with an alternative route to higher education through the highest quality vocational qualifications.
"It is crucial for both young people and for the country that we have diverse opportunities of the very highest quality, endorsed by employers and leading if a student wishes to other opportunities in both education and their careers.
"The fact that a University has a global reputation for the quality of its research and traditional teaching is in no way in contradiction with offering technical opportunities to able young people. This is an area where The University of Sheffield has been pioneering amongst research-led institutions and we are delighted to continue our commitment to genuine access of the highest quality."
Professor Chris Husbands, Vice-Chancellor of Sheffield Hallam University, said: "Sheffield Hallam has been a trailblazer in offering higher and degree apprenticeships in collaboration with key industry partners including Nestlé and JCB.
"I am delighted the University has been awarded this funding to help us further develop our degree apprenticeship provision and help meet the skills requirements of our regional economy.
"We will work closely with HEFCE and industry partners to respond to this challenge to develop the very highest quality apprenticeships which allow talented young people to take this pioneering route, fully funded by industry."
Robert Halfon MP, Minister for Skills and Apprenticeships said: "Apprenticeships work, that's why we've launched degree apprenticeships that give people a real chance to earn while you learn putting you on the fast-track to a top career.
"This multi-million pound fund will allow universities and colleges to work with top employers to design high-quality degree apprenticeships that give people a ladder of opportunity, more choice and help shape Britain to become an apprentice nation."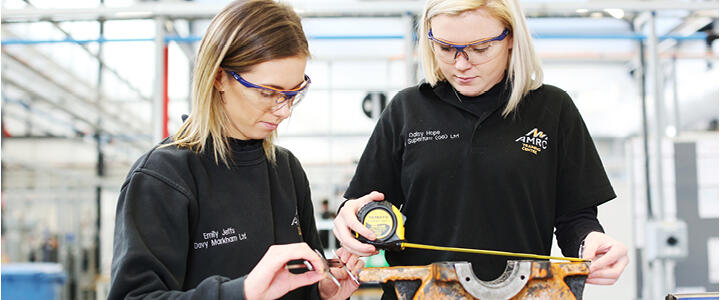 The Royal Academy of Engineering has forecast that the UK needs an extra 50,000 STEM technicians and 90,000 STEM professionals every year just to replace people retiring from the workforce – and firms have warned that this could lead to vital infrastructure projects such as HS2, Crossrail and Thames Tideway being "hundreds or thousands" short on the numbers of engineers they need.
The Sheffield City Region independent economic review has highlighted high-value manufacturing as a sector with the potential to create high-value jobs and attract much needed inward investment to the region.
Boosting the level of intermediate and higher level skills required by the high-value manufacturing supply chain is key to supporting the creation of high-value jobs and increasing economic growth in the Sheffield City Region.