Bronze award for gender equality
09 May 2019

The Advanced Manufacturing Research Centre's commitment to supporting the talents and potential of women in engineering has been recognised with its first Athena SWAN Charter Bronze Award for advancing gender equality.

The flagship scheme was set up in 2005 to encourage and recognise commitment to advancing the careers of women in science, technology, engineering, maths and medicine (STEMM) employment in higher education and research institutions.

The bronze award given to the University of Sheffield AMRC recognises institutions that have a solid foundation for eliminating gender bias and developing an inclusive culture that values all staff. It recognises that the AMRC Group is working to promote gender equality and identify and address challenges particular to the AMRC and engineering.

Dr Nicola Ridgway, who leads the Athena SWAN programme at the AMRC, which is part of the High Value Manufacturing Catapult, said: "I am very proud that the AMRC's commitment to gender equality and diversity has been recognised in this Bronze Athena SWAN award. We have made great strides, but this is just the beginning of our journey. The ethos of Athena SWAN is now part of our culture and we are determined to go further in improving equality across the AMRC and engineering in general."

AMRC Executive Dean, Prof Keith Ridgway, added: "This is fabulous news for us. Our global partners are not only leaders in their industrial sectors, they are also leaders in encouraging gender equality and diversity in their organisations. Like them, we know how important it is for advanced manufacturing to attract and grow the very best talent: and this means opening access to all.

"We are investing heavily in our STEM and outreach work in the region's schools. This is already changing the perception of engineering among teachers, parents and pupils, opening up new opportunities to communities with diverse populations in some of our more disadvantaged areas.

"The AMRC Training Centre is key to this, with high-quality apprenticeships providing clear pathways to higher education and degree qualifications, thus promoting social mobility across the region."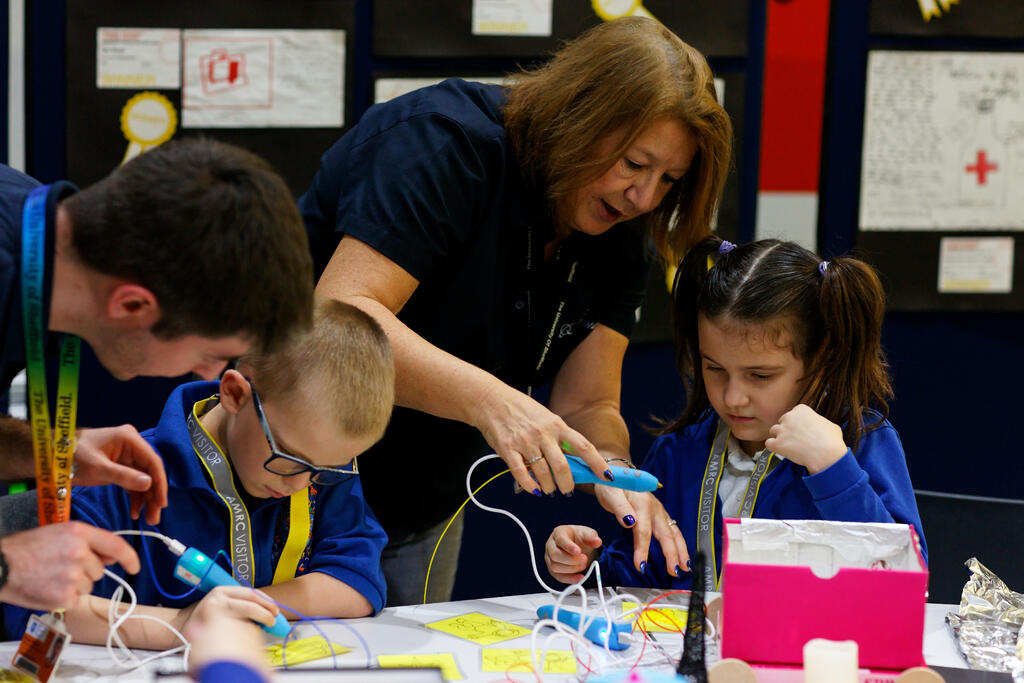 The award application was written by a dedicated team chaired by Nicola and co-chaired by the AMRC's Chief Executive Officer Colin Sirett.
Nicola said: "We first began this process in 2016 and have been working for two years analysing staff data and feedback from staff questionnaires, as well as discussing the best route forward.
"One of our first large actions was investing heavily in the AMRC STEM and Outreach team and building on the success of MANTRA, as encouraging more people into engineering really is key for us.
"Since the STEM team was established in April last year, it has engaged with thousands of school children from right across the Sheffield City Region, inspiring our young people to explore the opportunities of a career in STEM.
"We've also given our full support and backing to important initiatives such as Primary Engineer and Get Up To Speed with STEM and have 'Women in Engineering' events in the pipeline as part of our drive to encourage more females to consider a career in engineering."
In terms of good practice, the AMRC has drawn up a targeted action plan that focuses on four key areas:
Improving the AMRC culture and inclusivity
Increase diversity in engineering by improving education and outreach
Ensure improvements in under-represented groups by improving careers
Promotion of equality and family-friendly policies.
The Bronze Award is valid until November 2022 but the AMRC is not resting on its laurels and in this time will be working towards achieving the Silver Award.
The AMRC accreditation comes at the same time as the University of Sheffield had its silver institutional award renewed until 2022, making it one of only 18 universities to hold the accolade. Read more about the university's award here.
Advance HE, which runs the Athena SWAN Charter, will gift official recognition of the AMRC and the university's achievements at a ceremony on June 24.