Doing it the Wright way
29 November 2019

AMRC engineer-in-training Rebecca Wright – a self-confessed teenage tearaway who turned her life around with an apprenticeship – says she's proud to have reached the final of the National Apprenticeship Awards 2019.

Rebecca, who celebrated her 21st birthday yesterday, works for the AMRC's Integrated Manufacturing Group (IMG) at the University of Sheffield Advanced Manufacturing Research Centre. She was a finalist in the Royal Navy Award for Advanced Apprentice of the Year at a ceremony in London on Wednesday, competing against other apprentices who triumphed at regional ceremonies in September.

She missed out on being crowned winner at the national final but says being there, and in the top nine advanced apprentices in the country, has only made her more determined to succeed.

"The competition was tough and I'm so proud to have made it to the national final and to have been there in London with all these amazing apprentices from across the country," said Rebecca.

"I had the best night ever, it's so lovely to be able to dress up and have a good time with your colleagues and family. Of course it's always a little bit gutting when you don't win but I'm not going to get too disheartened. I got this far and I'm proud of myself for that and I'm sure others are too.

"This is my biggest achievement yet. I've never felt good enough for any job, especially when it comes down to qualifications and experience. This apprenticeship has made my life and I'm more motivated than ever now.

"The AMRC and AMRC Training Centre have been a big part in my life so far, they've helped me to achieve things that I wouldn't have dreamed possible three-years-ago. I really do look forward to the many years to come with the AMRC family, I couldn't ask for more."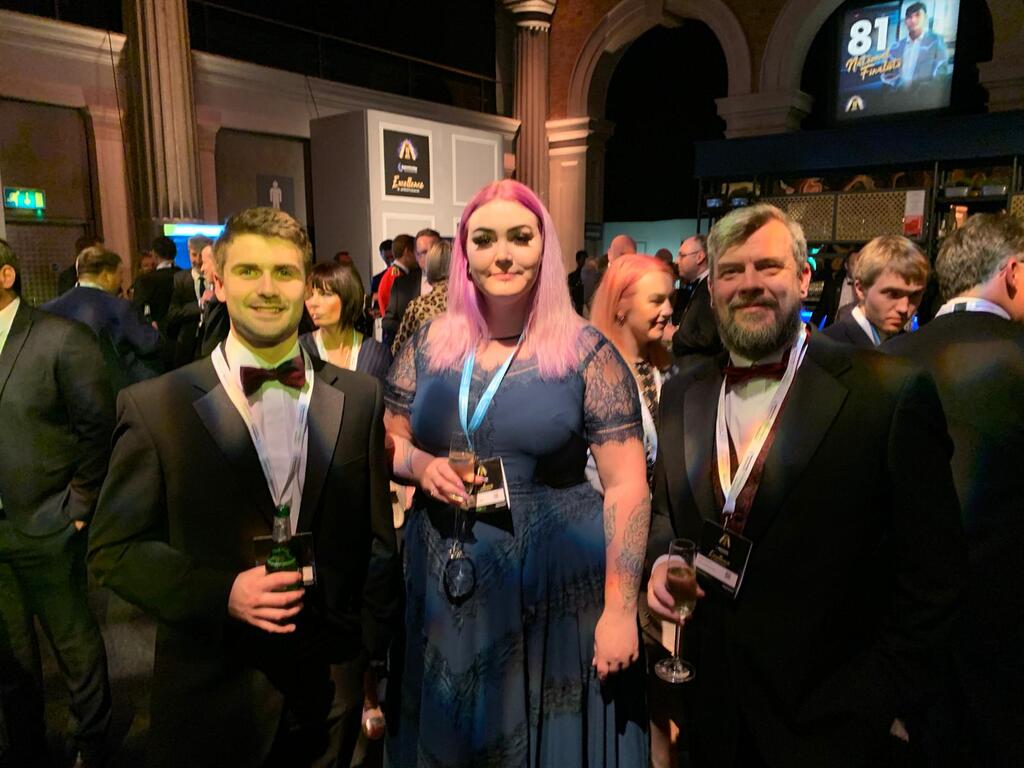 Rebecca is in the second year of a technical support apprenticeship at the AMRC Training Centre. Her main focus at IMG, based at the AMRC's Factory 2050, is computer-aided design, business improvements and maintenance in the workshop. She also manages the 3D printer to ensure everything operates efficiently, prolonging the life of the machine.
Her work to improve the efficiency of the Factory 2050 workshop has yielded results, having been tasked to improve workshop productivity by implementing '5S' lean manufacturing into the workshop, which resulted in the average cleaning time improving by 13 minutes each week, increasing working time.
Rebecca's mentor at IMG, project engineer James Lindsay, says Rebecca has a bright future ahead of her. He said: "We're all immensely proud of what Rebecca has achieved, from starting at the AMRC with no experience or knowledge of engineering to becoming a national finalist in just over a year shows her credentials to become a highly accomplished engineer in the future.
"Mentoring Rebecca is a dream due to her strong work ethic and has allowed her to become a model for future apprentices to follow, representing everything we stand for here at the University of Sheffield AMRC."
The high praise was echoed by Chris Greaves, head of IMG and Factory 2050. He said: "I am absolutely delighted that Rebecca was a finalist for Advanced Apprentice of the Year. The University of Sheffield AMRC is full of outstanding people, with a real passion for engineering and innovation. Rebecca is one of those.
"She has worked incredibly hard since joining the company. Everyone at the University of Sheffield AMRC is incredibly proud of what she has achieved in her relatively short career and to be recognised like this is testament to her drive and passion to succeed.
"She has quickly become an integral part of our team, and we are certain she will continue to develop and grow in her role over the coming years. Her story most definitely does not end here, there are many more chapters to come in her career."
The AMRC and AMRC Training Centre have been a big part in my life so far, they've helped me to achieve things that I wouldn't have dreamed possible three-years-ago. I really do look forward to the many years to come with the AMRC family, I couldn't ask for more
Rebecca is the second apprentice produced by the AMRC Training Centre to reach the national final, following the success of Oliver Marsh last year who was recognised for having a gift for taking the waste out of wheelie bin production, getting council crest plate changes down to 34 seconds from ten minutes and saving his company MGB Plastics in excess of £137k-a-year in production process costs.
Director of the training centre, Nikki Jones, said the whole team is incredibly proud of Rebecca's achievement, praising her 'attitude, passion and commitment' valued so highly by industry.
"Rebecca has flourished as an apprentice and we're tremendously proud of her and what she has achieved in such a short space of time as a technical support apprentice," said Nikki. "It's wonderful to see her at such a respected ceremony standing shoulder-to-shoulder alongside a stellar cast of talented young people.
"Our apprentices reaching national finals like this sends out a very clear message – our apprenticeships work. Rebecca and others like her are being equipped with the right blend of high-level skills and work-based learning they need to grow and bring meaningful value to their companies from the get-go. We're certain Rebecca's story doesn't end here and are certain she will continue to succeed in what will no doubt be a very rewarding career."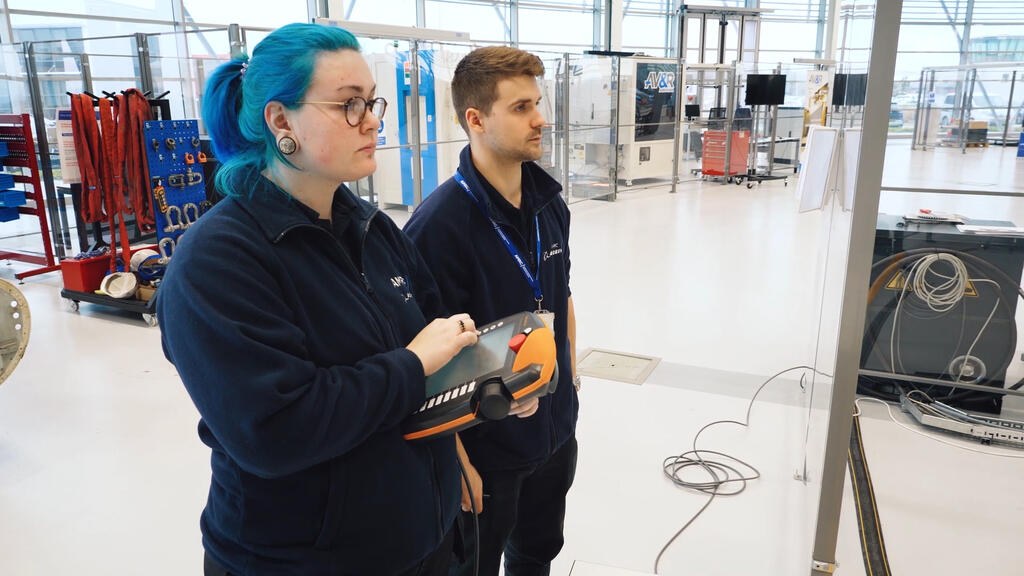 Now in their 16th year, the National Apprenticeship Awards showcase the diverse and growing range of sectors engaged with apprenticeships, whilst celebrating the achievements of outstanding apprentices, apprentice employers and individuals to inspire others to follow in their footsteps and champion apprenticeships across England.
The recognition rounds off a successful year of nominations for Rebecca who was also a finalist in the AMRC Training Centre Apprentice of the Year Awards in March and is also shortlisted for the GTA Awards to be held in February next year. She is nominated alongside degree apprentice Beth Cousins who works for the AMRC Machining Group.
Rebecca says ambition, aspiration and confidence were not words that featured heavily in her vocabulary before her apprenticeship. She admits she was 'a bit of a teenage tearaway' at school and was told she would 'never get anywhere' looking like she does with her colourful hair and piercings.
But she's proved herself through her engineering apprenticeship and says making the finals of the National Apprentice Awards 2019 really boosted her confidence.
"It's so strange for me being noticed like this because I'm not used to it. I never got on well with education; I got kicked out of a lot of lessons at school and was a bit of a rebel.
"I did go to college to do art and design but that way of learning just wasn't for me. Then I worked in a chippy, got a job in a shop and a call centre; I didn't know what I wanted to do.
"It was when I met my boyfriend that things changed. He'd been to the AMRC Training Centre and that's when I looked into an engineering apprenticeship."
Mentoring Rebecca is a dream due to her strong work ethic and has allowed her to become a model for future apprentices to follow.
With support from the training centre, Rebecca secured a place with the Integrated Manufacturing Group at Factory 2050, the place where digital meets manufacturing.
"My apprenticeship has changed my life so much," she said. "The confidence it has given me has made a big difference; my dad said I was always that little girl who was too scared to talk to the shop keeper and now I'll talk to anyone.
"I came into the job with knowledge and skills because of my training at the AMRC Training Centre and my mentor, IMG project engineer James Lindsay, has taught me a lot too, building on my skills to help me grow and become more independent.
"My apprenticeship has given me ambition and aspiration and made me realise there's a world of opportunities open to me. Something I would really like to do is progress and go on to do a degree. I also want to carry on my work to promote STEM and Women in Engineering, and being an ambassador for the AMRC."