Innovation Strategy launched at Factory 2050
26 July 2021

Business Secretary Kwasi Kwarteng highlighted South Yorkshire's 'history in engineering, manufacturing and high-level innovation' as he launched a new Innovation Strategy at the University of Sheffield Advanced Manufacturing Research Centre (AMRC).

The strategy is the government's long-term vision to boost private sector investment to put the UK at the front of the global innovation race. It will increase annual public investment on R&D to £22bn and aims to create the right conditions for all businesses to innovate so they have the confidence to do so.

Mr Kwarteng chose the AMRC's Factory 2050, on Sheffield Business Park, to launch the 116-page document, addressing invited guests including representatives from Boeing, Doncaster Chamber of Commerce, the High Value Manufacturing Catapult, Rolls-Royce, Sheffield City Council, Sheffield SME Magnomatics and UK Research and Innovation.

He said: "I was delighted to be able to launch the Innovation Strategy in Sheffield and celebrate the 20th anniversary of the AMRC.

"Sheffield is particularly appropriate given its history of engineering, manufacturing and high-level innovation; indeed, Made in Sheffield is a hallmark around the world of strength, quality and innovation."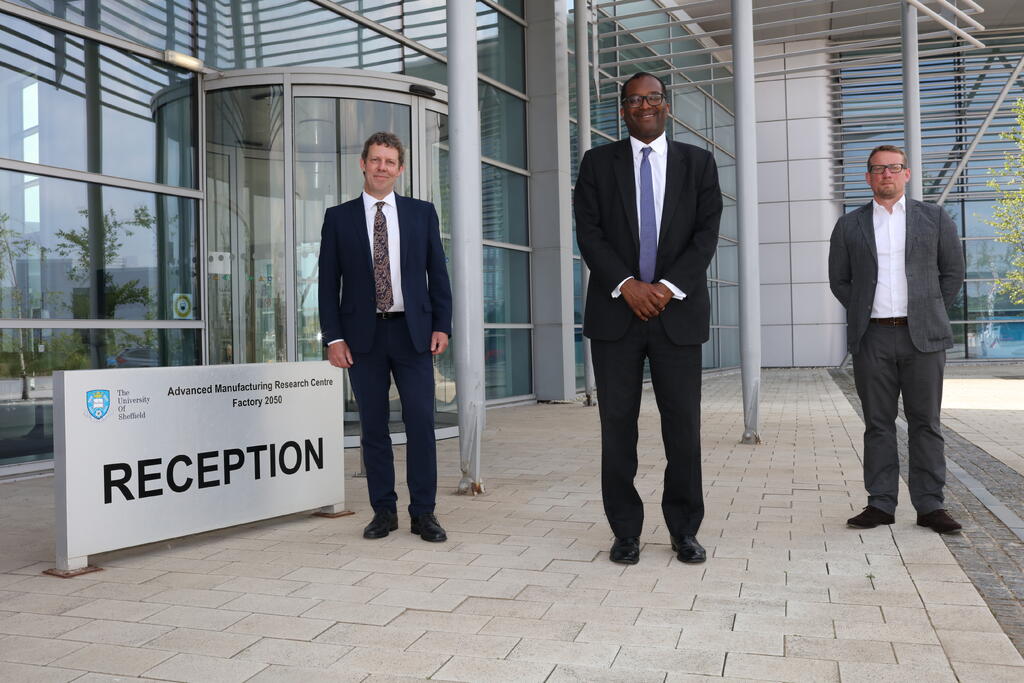 Factory 2050 is the UK's first state-of-the-art factory entirely dedicated to conducting collaborative research into reconfigurable digitally assisted assembly, component manufacturing and machining technologies. Mr Kwarteng was given a tour of the AMRC's flagship facility by Professor Koen Lamberts, Vice-Chancellor of the University of Sheffield, and Steve Foxley, CEO of the University of Sheffield AMRC.
Professor Lamberts said: "I was thrilled that the Secretary of State chose to make this announcement at the University's Advanced Manufacturing Research Centre. Over the last two decades, the AMRC has helped transform this region into a global exemplar of manufacturing innovation.
"The AMRC works with companies of all sizes, from global giants to SMEs, helping them to improve their competitiveness and profitability. It was fitting that many of those partners could be at Factory 2050 to hear the Secretary of State's announcement."
The strategy outlines how the Government will focus its efforts to support businesses and institutions at the cutting edge of innovation, setting out plans in four areas: unleashing business; people; institutions and places; and missions and technologies.
Mr Kwarteng continued: "Through this long-term plan, we want to rekindle our country's flame of innovation and discovery, helping businesses to seize the vast opportunities that innovation can bring."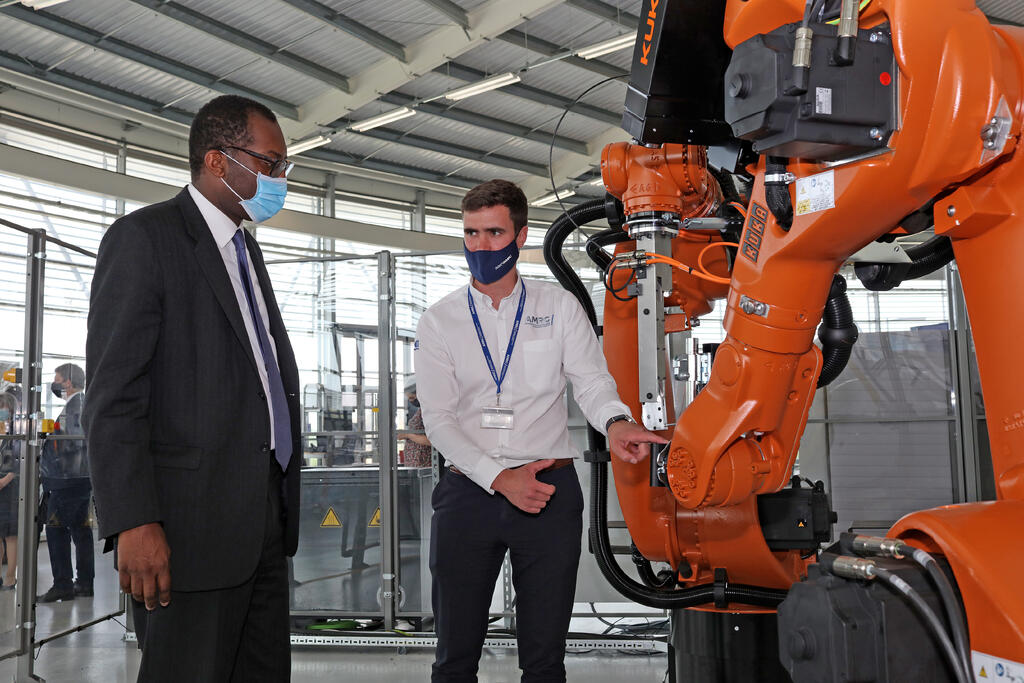 On a tour of the Factory 2050 shop floor, Mr Kwarteng was shown the AMRC's work with SMEs, including Sheffield-based Magnomatics; the inward investment to the Sheffield City Region stimulated by the AMRC; and work on the Small Modular Reactors programme alongside Rolls-Royce.
There was also discussions on how the University of Sheffield is helping to put UK manufacturing at the forefront of the electrification revolution with the Future Electrical Machines Manufacturing (FEMM) Hub, and the AMRC's role in the £75m Zero Carbon Humber project to decarbonise the industrial cluster around the Humber.
"What is immediately apparent as you walk around Factory 2050 is the importance of SMEs to the supply chain - whether that is in a huge project such as Zero Carbon Humber or a company such as Magnomatics," said Mr Kwarteng.
"Such work is also critical as the UK addresses the challenge of reaching net zero by 2050."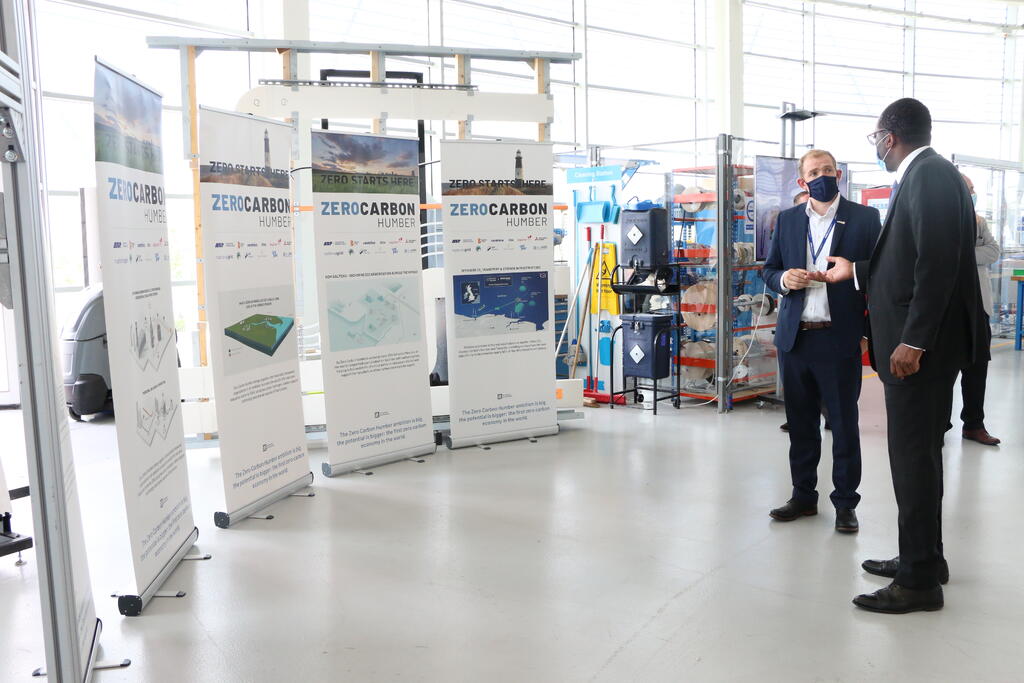 Steve Foxley says the AMRC's story of potent transformation in an area in need of regeneration can energize other parts of northern England.
He said: "Factory 2050 was the perfect backdrop to the Innovation Strategy launch. It is a prime example of how a combination of partnerships and collaborations can transform an area of de-industrialisation and decline into a state-of-the-art research asset.
"Supply chain resilience, sustainability and net zero are right at the top of the government's agenda and we illustrated to the Secretary that they are at the forefront of our minds at the AMRC as well.
"For the Secretary of State to choose the AMRC to host the strategy launch demonstrates the impact we, and our colleagues at other High Value Manufacturing Catapult centres, have on companies, large and small, across the UK."