Minister's 'housing green revolution' plan revealed during AMRC visit
29 October 2019

THE north of England has the potential to become a world-leader in the creation of modern, high-quality homes said Housing Minister Esther McVey as she spoke to industry leaders during a visit to the University of Sheffield Advanced Manufacturing Research Centre (AMRC).

She announced government's ambition for a new 'centre of excellence' for Modern Methods of Construction (MMC) in the north at Factory 2050, part of the University of Sheffield AMRC, where she met with major developers, small businesses, academics and apprentices.

Of the potential in the north of England, Housing Minister Esther McVey said: "We must invest in this new technology. It's as simple as that.

"The benefits are clear. Some modular homes can be built in a factory over a week and assembled on site in a day.

"Industry has told us some homes built using modern methods can have 80 per cent fewer defects and heating bills up to 70 per cent lower. Homes built using modern methods can be of higher quality, greener and built to last.

"I want to see a housing green revolution. In the north of England where the first industrial revolution began.

"With our emphasis on safety, quality and beauty, we could be the global leaders in housing standards. And if we get it right, once the industry matures it could be worth an estimated £40 billion to this country.

"To build all these new homes we will need a brand-new workforce to make these homes offsite. Skilled, high quality jobs, for life. The north of England has the potential to be the construction capital of the country for this new technology, and we need to fully embrace this.

"This could be a new hub. Think Silicon Valley. The 'construction corridor'."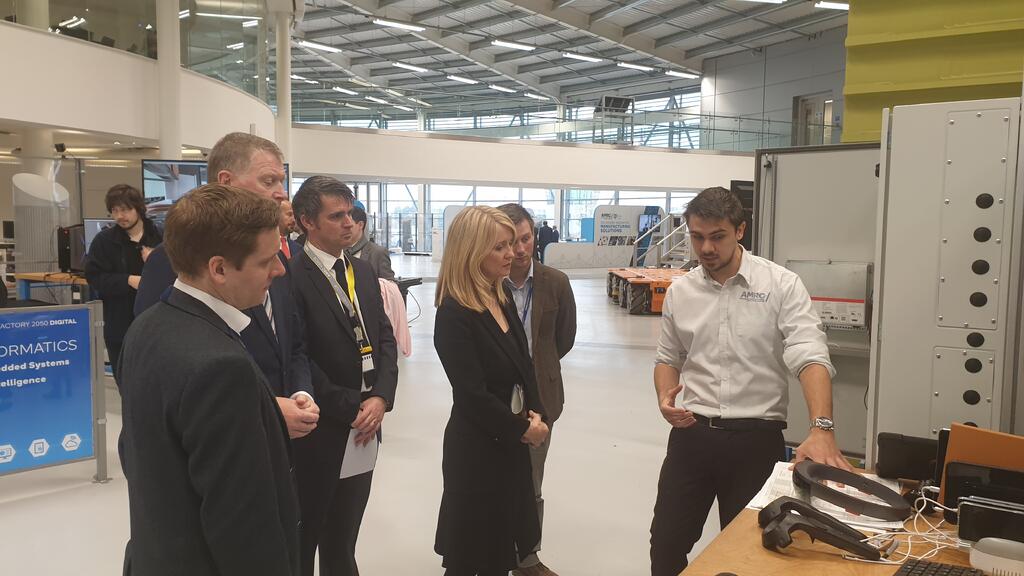 In order to ensure industry has the skills it needs to keep up with advances in technology coming down the line, government will encourage business to link up with academics across the North – sharing expertise and working together.
Modern Methods of Construction are being used more frequently, with around 15,000 homes built in 2015 across the country. The 'centre of excellence' will create a new network of people, connected in their aim to boost the use of MMC whilst also sharing ideas and future uses.
During the Minister's visit to Factory 2050, she met with AMRC CEO Colin Sirett; James Illingworth, AMRC Head of Construction Research; and AMRC Training Centre engineering apprentices.
"It was great to see government interest in off-site modular construction and in the quality and energy efficiency improvements afforded by Modern Methods of Construction; we think it's the solution to affordable, low carbon, energy efficient homes and it is good to see it now moving up the national agenda," said University of Sheffield AMRC CEO Colin Sirett.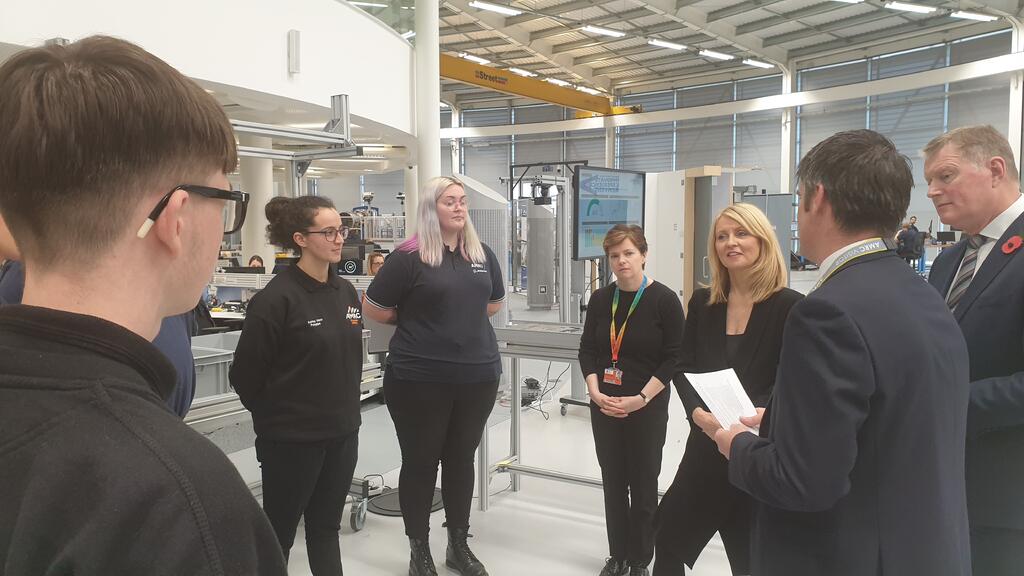 The pledge came at the same time as government housing agency Homes England announced £38.2m funding deals with six local authorities awarded through government's £350 million Local Authority Accelerated Construction programme, launched to accelerate the delivery of local authority housing schemes and encourage the use of MMC.
Nick Walkley, Chief Executive of Homes England, said: "Homes England sees enormous benefits to MMC – from allowing high-quality homes to be built more quickly to addressing labour and skills shortages and improving energy efficiency – so it's vital that there is continued investment in it.
"The Local Authority Accelerated Construction programme supports local authorities to prepare sites for the construction of much-needed new homes and prioritises the use of modern methods of construction to increase the build pace by an average of 40%."
Mark Farmer, chair of the MMC Working Group, said: "The UK has a fantastic opportunity to become a true world leader in the advanced manufacturing of new homes. We urgently need to better assure building safety, improve quality, reduce carbon and offer much more consumer choice and protections.
"These improvements will only be achieved if we fundamentally readdress the way we design and deliver new homes. As part of achieving this aim, the establishment of a centre of excellence for modern methods of construction in the north of England will leverage what is already a growing part of the regional economy.
"I am pleased that government is driving this important initiative and I look forward to helping make this a success in coordination with all key stakeholders."