Minister sees innovation at AMRC Cymru on National Manufacturing Day
13 July 2022

The Welsh Government economy minister says AMRC Cymru is key to ensuring cutting-edge research and development (R&D) prospers in Wales.

Vaughan Gething visited the state-of-the-art R&D centre in Broughton on National Manufacturing Day. To celebrate the day, the AMRC organised a series of public tours of its facilities in North Wales, Lancashire and South Yorkshire.

The University of Sheffield Advanced Manufacturing Research Centre (AMRC) Cymru opened in 2019 and was fully funded with a £20m grant from Welsh Government. It is the first High Value Manufacturing (HVM) Catapult centre in Wales.

Mr Gething said: "It was great to see the innovative and exciting projects taking place at AMRC Cymru in Broughton, especially on National Manufacturing Day.

"The facility plays an important role in the cutting-edge research and development activity in the region, and Wales as a whole, and we want to see that not only continue, but prosper into the future."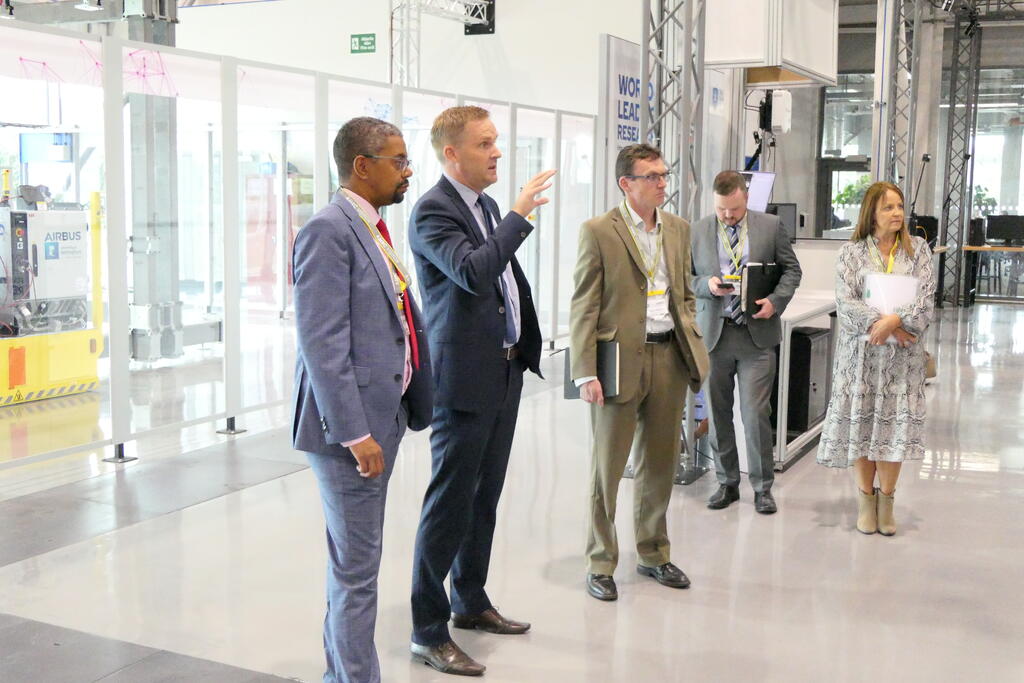 Mr Gething was given a tour of the shop floor by AMRC Cymru research director Andy Silcox. The minister was shown technologies including a smart workbench, robotic systems and additive manufacturing on 3D printers.
Andy said: "There was no better day to show the minister around our facility than National Manufacturing Day, when we opened our doors to the public to allow them to meet our engineers and see some of our projects up close.
"The support from Welsh Government is essential to our success as we drive improvements in Welsh manufacturers' business resilience, productivity and sustainability by helping them integrate digital technologies into their processes."
National Manufacturing Day was organised by Make UK, the representative voice of UK manufacturing, with offices in London, Brussels, every English region and Wales.
Get in touch with the AMRC Cymru team here.
To find out more about how the University of Sheffield AMRC celebrated National Manufacturing Day click here.