Robotic braider open for business
08 October 2018

A large scale robotic triaxial braider to support development of complex lightweight preforms for automotive and aerospace is now open for business at the University of Sheffield Advanced Manufacturing Research Centre.

The equipment, the largest radial braider in the UK, has been supplied by Herzog GMBH and is part of a collection of state-of-the-art equipment purchased by the AMRC using funding from the Aerospace Technology Institute (ATI) to bolster the UK's position as world leader for advanced composites.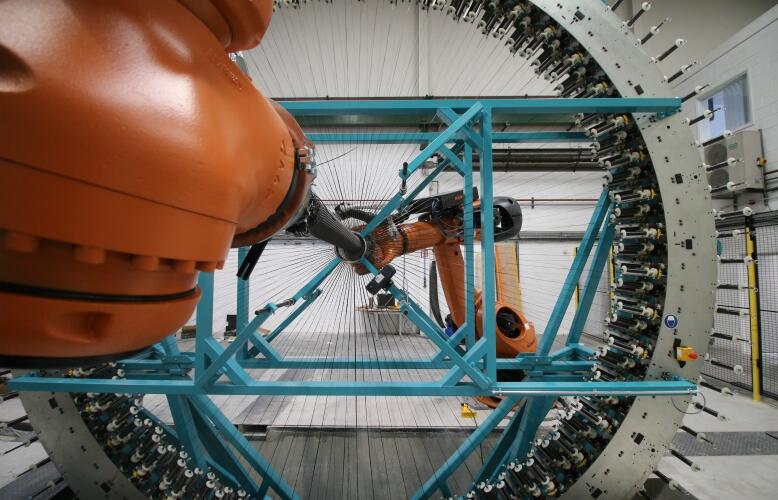 The giant 6m diameter braiding system allows for the development of manufacturing complex architectures and features with dry fibre technology, offering the ability to tailor orientations to suit structural requirements as well as allowing both off axis and axial fibres to be laid simultaneously at the deposition rates required for high volume manufacture.
Consultant engineer at the AMRC Composite Centre, Andy Smith, has been overseeing the installation of the braider.
He said: "It's fantastic to see this remarkable piece of equipment now in place and open for business. The AMRC is already engaging with companies to work on collaborative research and development projects using the braiding system which, due to its dual robot take off system, has the capability to not only manufacture complex shaped preforms but also to integrate additional process steps within the cell."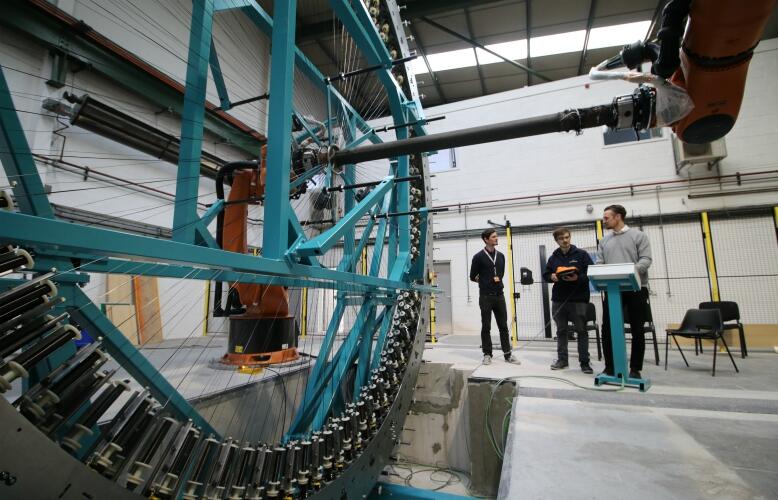 A wide range of materials can be used with the radial braider including carbon, thermoplastic, glass, aramid and co-mingled tows. It is also capable of processing ceramic fibre such as alumina and silicon carbide which would otherwise be difficult to process on a conventional braiding machine.
It has widespread application for components used in aerospace and automotive, and the technology - which is open to research projects for AMRC members, external companies and grant funded projects - can be combined with any of the other technologies at the AMRC, including the 1000T Rhodes press and KraussMaffei RTM equipment.
Other cutting edge equipment purchased by the AMRC includes: 3D weaving loom and Jacquard through-thickness permeability testing, tailored fibre placement, a high temperature-high tension filament winder, tow-spreading machine and robotic end effectors for automated handling.
For more information about potential project contact Dry Fibre Development Manager at the AMRC Composite Centre, Chris McHugh, by emailing c.mchugh@amrc.co.uk.