AMRC Cymru saves joint site with Airbus UK enough energy to power 60 homes for a year
19 July 2023

The Airbus UK team based at the AMRC Cymru facility in Broughton saved enough energy to power 60 homes for a year as part of a pioneering future factories project to help businesses boost productivity while meeting net zero targets.


Over a five-month period, AMRC Cymru and aerospace manufacturer Airbus, who share a research facility in Broughton, saw electricity savings equivalent to powering 41, three-bedroom homes for a year, and gas savings equivalent to powering 21, three-bedroom homes for a year. As part of Ffatri 4.0, the Airbus team saw a reduction in electricity usage of almost 20 per cent at the joint AMRC Cymru facility.

Ffatri 4.0, launched last year, is a collaboration between the Welsh Government and AMRC Cymru, part of the University of Sheffield Advanced Manufacturing Research Centre and a member of the High Value Manufacturing Catapult network. The project has already delivered tangible results and proven to increase business resilience, productivity and cut emissions for Welsh manufacturers in the aerospace and food and drink industries, including Airbus and The Pudding Compartment.

Luis Rivera, wing accelerator industrial leader at Airbus, said the collaboration between Airbus and the AMRC has been positive at many levels. Connecting their network of Airbus process experts with the AMRC team, the collaboration allowed for shared learnings, as well as guidance and feedback on needs for future product introduction.

He said: "The AMRC in turn used their research and innovation core knowledge to explore and discover new possibilities beyond our day-to-day activities, expanding our area of interest to new topics that will help the introduction of any future line of production."

By tuning the building management system to the actual use requirements both in offices and on the shop floor, specifically in terms of temperature and lighting control, the significant gas and electricity savings seen by Airbus have been achieved with minimal additional equipment and costs.

The Pudding Compartment's data and analytics results were more fact-based. By implementing advanced digital tools, they were able to get a holistic view of their business with real data. This helped highlight key areas for improvement and led to a stronger strategic transformation plan for business growth.

Steve West, director at The Pudding Compartment, said he was interested to see how a big project like Ffatri 4.0 could help an SME like them.

For The Pudding Compartment, digital data gathering using low-cost temperature sensors is helping to optimise their production/storage area temperatures. Energy sensors help to understand the equipment better; faults can be identified before they result in machine breakdowns, and scheduled production is reducing energy consumption of the equipment.

A VR digital model and simulation tool of the production area has helped to model a new layout digitally before moving equipment around - saving the time and cost of installing power and compressed air outlets in the wrong place, allowing them to try various layouts digitally before optimising their process flow.

All digital interventions are being 'joined together' to create a whole system that'll act as a comprehensive digital planning tool.

Steve said: "We're currently installing our first automation equipment (robots) and setting up a system that'll give us a comprehensive digital planning tool. All the digital interventions are being 'joined together' to create a whole system that'll be displayed on a PC dashboard – this'll enable us to remotely monitor, understand, and improve all aspects of our processes from start to finish in a way that we could never achieve previously."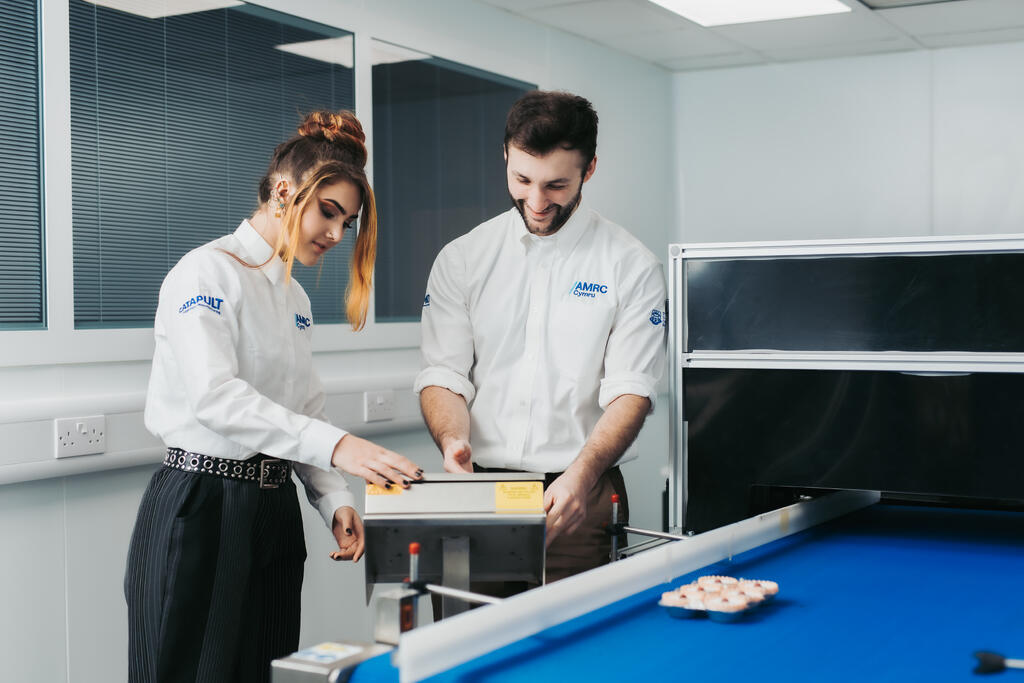 Vaughan Gething, economy minister at the Welsh Government, said: "Ffatri 4.0 is an innovative project which supports research and development in Wales, while also carrying out important work to advise the factories of the future. Businesses want and need to increase productivity while taking the environmental impacts into account.
"It's great to see AMRC Cymru being used for this important research which will be of particular benefit to the aerospace and food and drink sectors and is a key contributor to our Economic Resilience and Reconstruction Mission, which sets out how the Welsh Government is rebuilding the Welsh economy, so it is more prosperous, equal and greener."
Lesley Griffiths, minister for rural affairs and North Wales at the Welsh Government, said:"I'm pleased to see the results from Ffatri 4.0 during its first year. It's great to see the impact Ffatri 4.0 has had on food and drink businesses taking part, such as the Pudding Compartment. The lessons learnt from this project can be shared with the wider industry, so all can benefit.
"This also shows what AMRC Cymru can deliver, and what an asset it is to have this state-of-the–art facility here in North Wales."
Jason Murphy, operations director at AMRC Cymru, said: "The Ffatri 4.0 project offers the Welsh manufacturing sector a window into the future. The work at The Pudding Compartment combines the robotic processing of food produce with a complete intelligent manufacturing system that harnesses and processes data from a host of industrial sensors.
"The data is channelled into the Siemens Mindsphere platform for storage and interpretation, finally being utilised to create a true digital twin of the factory. The digital twin offers numerous opportunities for improving efficiencies across the plant through production replays, real time monitoring and forward planning – allowing optimisations and efficiency savings that improve both productivity and sustainability performance.
"The system architecture also creates a platform for the AMRC to develop artificial intelligence (AI) driven manufacturing improvements – a field in which the AMRC have been supporting the food and drink sector, and Airbus with AI roadmaps. The dissemination of lessons learned through AI adoption across aerospace and food and drink, two important sectors to manufacturing GDP in Wales, is exciting and hugely appealing.
"The Ffatri 4.0 project involved collaboration across a number of industrial partners, such as CAD-IT, EBS Automation, Siemens and Small World Consulting. As a consortium, these partners delivered excellence across a broad spectrum of technologies to help to deliver this cutting-edge exemplar for Wales."
With an increasing focus from the manufacturing industry on its own sustainability objectives, coupled with a potential sustainability legislation being brought in by the government setting new targets for air quality, water, biodiversity and waste reduction, the success of Ffatri 4.0 can help other SME manufacturers identify key focus areas within their own supply chains.
Learn more about how the AMRC Cymru is helping SME manufacturers