AMRC Training Centre apprentice Ben Siddall latest rising star to win 'Apprentice of the Year'
08 May 2018

Twenty-one year old, Ben Siddall from Barnsley became the fourth apprentice to win the honour of being named 'Apprentice of the Year' at the Advanced Manufacturing Research Centre (AMRC) Training Centre's annual award ceremony at the University of Sheffield's impressive Firth Court Hall on 4 May 2018.

The awards are generously supported by Boeing and Ben - who works as a Production and Perforation Department Manager for C&S Fabrications in Sheffield - will tour Boeing's commercial aircraft factory facilities in Washington State, outside Seattle in the United States, to see first-hand how the world's largest aerospace company designs, tests and builds its 737, 777, 747 and 787 aeroplanes.

The Apprentice of the Year award uses nominations from employers and trainers who want to recognise the achievement, innovation, fresh thinking or contribution to industry exhibited by our apprentices, and are judged by a panel of AMRC Training Centre staff and award sponsors.

This year the judges were struck by what a positive effect Ben has made within his workplace, who shows great interest in the impact he can have on his employer; demonstrated through a number of incentives he has implemented.

Ben's strong work ethic and determination to succeed has already resulted in a promotion and he is now a production manager for his employer. The judges were impressed by Ben's passion and his infectious enthusiasm for engineering; making him a great ambassador for others.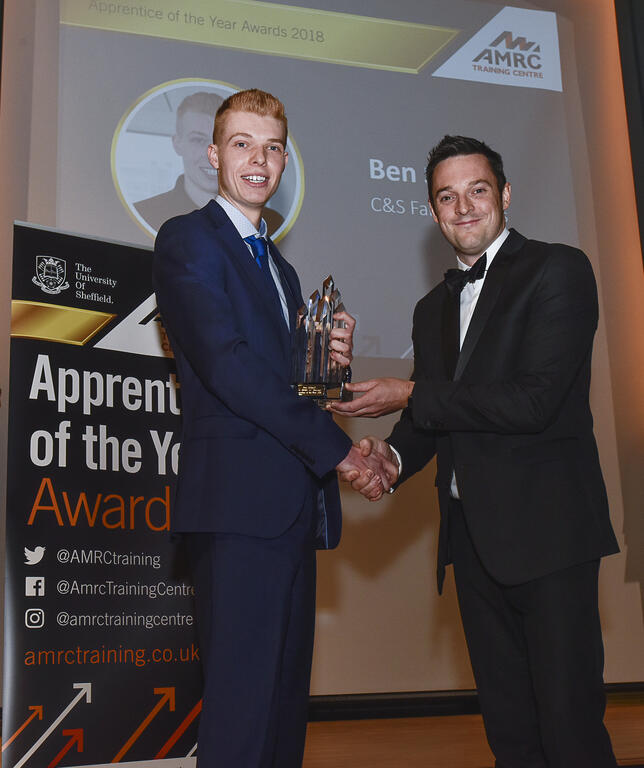 Speaking at the awards, Apprentice of the Year winner, Ben, said: "I am totally shocked and surprised to have won Apprentice of the Year! I was grateful just to be nominated and have people put me forward for the award who thought I was deserving of the honour!"
Ben said one of the main highlights of his year was utilising the skills he has learnt at the AMRC Training Centre to support improvements in house at C&S Fabrications, such as applying the use of 3D CAD learnt as part of his technical support course.
Managing Director of C&S Fabrications, Shaun Siddall, was at the event, he said: "We are so proud that Ben has won Apprentice of the Year, he is such a fantastic representative for our company.
"Ben has brought a new different approach to the company and as a result has implemented process improvements that have brought great benefits to our workplace, all completely under his own initiative. Bringing in younger talent definitely brings in fresh new ideas and attitudes and having an apprentice join us from the AMRC has been such a worthwhile experience."
Other winners at the AMRC Apprentice of the Year Awards were:
Machining Apprentice of the Year, David Carroll of Doncasters Bramah
Sponsored by Sandvik Coromant
Technical Support Apprentice of the Year, Ben Siddall of C&S Fabrications
Sponsored by The Source Academy
Fabrication and Welding Apprentice of the Year, Kyle Heighington of Wilson Brothers Ltd
Sponsored by Sheffield International Venues
Maintenance Apprentice of the Year, Joshua Brookes of Thos C Wild Ltd
Sponsored by Hexagon Manufacturing Intelligence
Academic Achiever of the Year, Benedict Bloomer of Arconic Forgings and Extrusions
Sponsored by Barnsley College
Higher Achiever of the Year, Oliver Heafield of Rolls-Royce
Sponsored by The University of Sheffield
First Year Apprentice of the Year, Will Morton of Tribsonics Ltd
Sponsored by the AMRC
AMRC Training Centre Mentor of the Year, Chloé Fairman
Sponsored by Apprentice Employment Agency
Special recognition awards (sponsored by the Manufacturing Technologies Association, Cutwel, Stanley Black & Decker and Close Brothers Group plc) were also given to Abbie Plummer of Symphony Group, Andrei Popa of CAM Hydraulics Ltd, Sam Cowley of the AMRC and Jacob Martin of Chesterfield Special Cylinders for their exemplary achievements, attitude and contributions to the Training Centre throughout the year.
Director of the AMRC Training Centre, Nikki Jones, said: "The Apprentice of the Year awards is the highlight of the Training Centre's calendar; it is a fantastic opportunity for us to celebrate the achievements of our apprentices and shows, with the right attitude, commitment and support, just what anyone can achieve.
"All our apprentices work hard to achieve the best results, and it is an honour to see some shining examples of success here tonight, our apprentices really are a credit to themselves and their companies."
Professor Sir Keith Burnett, President and Vice-Chancellor of the University of Sheffield, said: "I would like to extend my warmest congratulations to tonight's winner Ben on his success.
"I am extremely proud of the ability of the AMRC Training Centre and of the work it does training future generations of much needed engineers, so it is only right to mark the achievements of our talented apprentices and of those who train and mentor them.
"Our apprentices are an important part of our University and prized to the companies who sponsor and employ them. The AMRC Training Centre gives people a crucial alternative route into higher education so here at the University and the AMRC, we are further able to attract the clever and talented individuals that are such a magnet to inward investors seeking skills and a crucial part of the U.K's future economy."
James Needham, Operations Manager for Boeing Sheffield presented Ben with his award and extended his congratulations: "It was evident from the start that Ben is extremely dedicated and passionate about being the best apprentice he can be.
"The values he has demonstrated are those that any employer would prize. He is a worthy winner and he should be proud of all the opportunities this award will bring him in the future."
Ben said: "I always knew I was interested in engineering and would join that profession. My apprenticeship with the AMRC has been the stepping stone that set me off in the right direction in my career and given me the practical skills that I needed to progress in my workplace.
"In the future I look forward to working my way up within my company and working hard to keep making improvements. I am excited to see what the future holds from here!"