Digital adoption in byte-sized chunks
29 March 2019

While national policy makers wrestle with how to solve the UK's productivity conundrum, the AMRC's inaugural 'beer and bytes' event at Factory 2050 suggests an informal, grass roots approach might provide the key to the adoption of industrial digitalisation.

More than a dozen manufacturers from across the North attended an invite-only event at the AMRC last week to sample craft beer, pork pies and crisps. Also on the menu was the chance to savour the rather more exotic delights of augmented and virtual reality; robots and cobots; Artificial Intelligence, data analytics and discrete event simulation.

"It was a great event," says Alan Lyons, a leading player in the AMRC's new drive to connect small and medium sized firms in the North with industrial digitalisation. "Interest in the tech far outweighed the interest in the hops. All but four of those who attended have come back to us asking for second helpings, with our engineers visiting their facilities, or hosting return trips to Factory 2050 to explore how best to exploit the benefits of Industry 4.0. The only complaint on the night was the lack of brown sauce for the pork pies."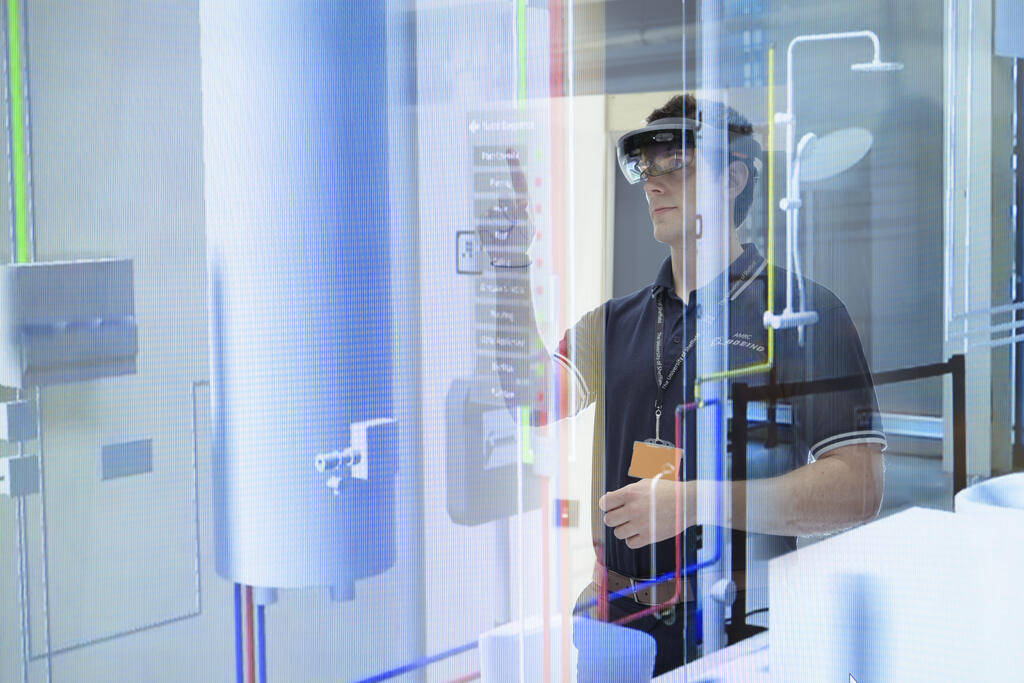 As representatives of UK manufacturing, the firms could not have been more diverse. They included a university spin-out whose revolutionary magnetic gears are breaking into global markets; a composite door manufacture whose products are the entrances to 3 million homes; a precision engineering company working in the energy sector, with ambitions to expand into aerospace following its AS9100 accreditation; and a world leader in the design and manufacture of indoor playgrounds, from trampoline parks to ninja warrior courses.
Following nibbles and refreshment supplied by Santander's Commercial Relationship Director, Andrew Russell, the focus of the evening was a tour of technology demonstrators led by Factory 2050 Operations Manager, Chris Greaves, and a team of AMRC engineers.
Kevin Bowles, Director of the Doncaster-based House of Play, said: "We were impressed to discover that such world-class work is happening so close to our doorstep. Prior to this event we were relatively unaware of what the AMRC was and where it was located. The excellent work performed by Business Doncaster opened our eyes to its presence and Alan and the team were able to provide further insight into the AMRC and what it has achieved and is hoping to achieve in the future."
Established in 1994 the House of Play firmly believes in innovation. "We have a saying in our company, 'you Innovate or you die.' Every project involves some level of R&D, whether to a specific component or a full scale R&D project which our customer had asked us to consider. It allows us to remain competitive in the market and also acts as a USP."
Last year the firm's manufacturing arm, Bowson Industries Limited, grew its staff by 50% from 20 to 30 employees and dramatically improved turnover with the help of a £15,000 investment from Business Doncaster, partner of the Sheffield City Region Growth Hub Enhancement Project. Since investing in new equipment and staff the firm has seen sales rise 86.7% to £1.4m in 2018, up from £750k the previous year. But Kevin is not complacent.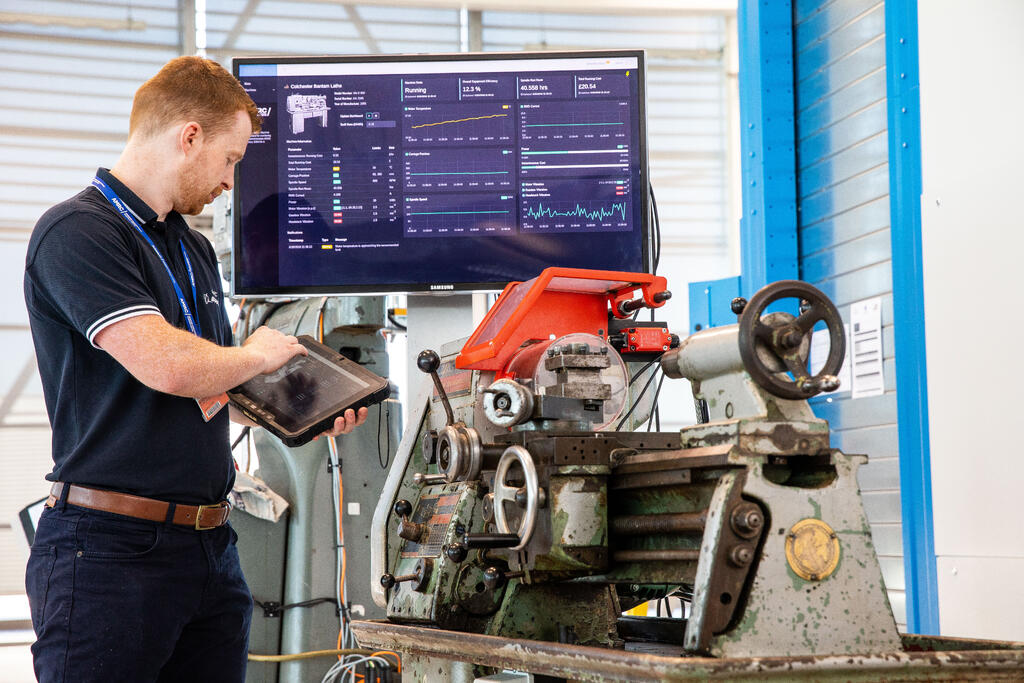 Following a look at Factory 2050's legacy lathes, retrofitted with inexpensive smart sensors, he said: "We are particularly interested in the ability to digitise existing plant and machinery, and hope Alan and the team can review the 12 sewing machines we currently have so that data can be generated to analyse performance and efficiencies of each machine. Hopefully this data could also demonstrate if any essential maintenance is required which could potentially improve the lifespan of the machine.
"The AMRC could assist in testing this on one of the sewing machines and advise on any funding which may be available to assist in this development. We have lots more ideas including automatic net tying tool and a fibreglass chopper gun robot. Hopefully the AMRC will be able to assess each project for feasibility and budget allocation so that we can ensure that any roads we go down, and any monies spent are sensible."
Business Doncaster's Mark Loraine said: "It was a fantastic way of introducing digital manufacturing to the region's SME sector. The more of these the better – nuclear, composites, machining, design and prototyping would all be invaluable to the right companies. We are very lucky to have such a fantastic facility close at hand."
For Dave Latimer, CEO of Magnomatics, the event was not his first visit to the AMRC. As a dynamic, science and research-led business, the firm retains close links with the University of Sheffield and invests around £1.5 million a year in R&D. While digital technologies are less relevant to his business just now, Dave is keen to work with the AMRC to "develop innovative manufacturing processes" and is now in discussions with the Factory 2050 team.
A common topic of conversation during the evening was how the work of the AMRC is raising the profile of the Sheffield City Region around the world.
The Director of BG Engineering, Chris Brown, whose Chesterfield-based precision machined components business is expanding from energy into aerospace following its AS9100 accreditation said: "The AMRC has reinvigorated the region and the reputation of Sheffield as a technical centre of excellence globally. We have recently begun a journey into aerospace manufacturing and visited trade shows around the world. It has been surprising how far afield people have heard of the AMRC and the reputation of Sheffield within aerospace.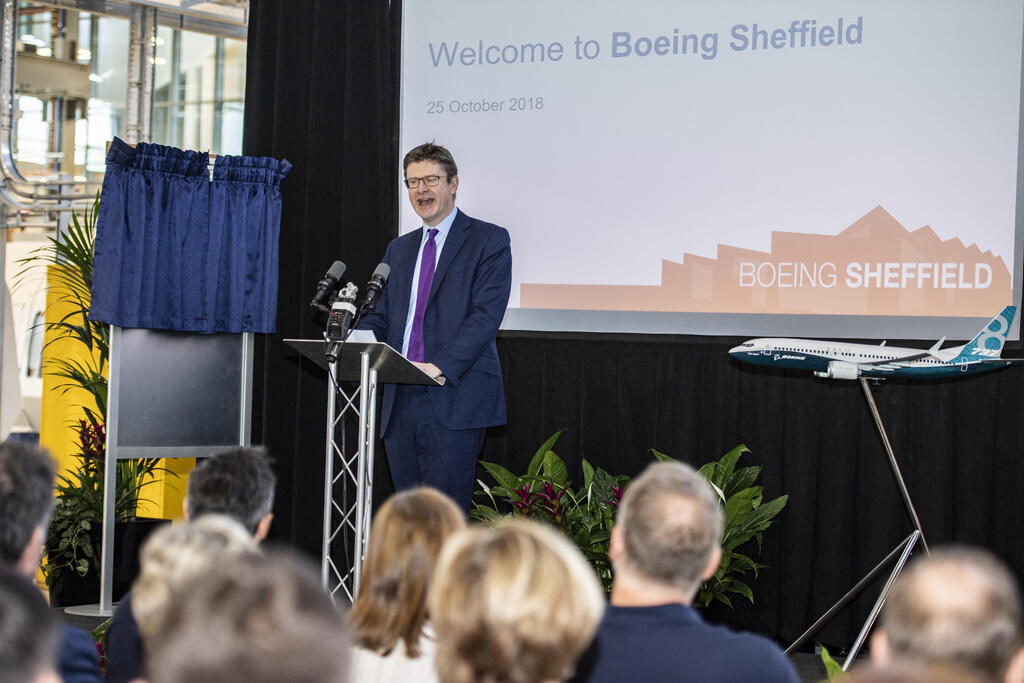 "These are exciting times around Chesterfield and Sheffield with developments such as Rolls-Royce, Boeing and McLaren all happening, this brings with it lots of investment in the greater manufacturing community, and we want to play our part."
Asked how the AMRC could help his business grow, Chris had this to say: "We need a clear understanding of how the shop-window technology at Factory 2050 can be realised in our factory. The biggest fear of engaging the AMRC on a project is the cost, the impression I have is we're too small to engage in this and our pockets are nowhere near deep enough. It would be good to see the numbers from some real case studies."
Innovation and R&D is critical to the success of his company he added. "We're living in an exciting time and place to be a manufacturing business. There is an unbelievable amount of innovation going on and we need to be part of it! We have made contact to engage on a number of projects including new factory layout and developing our gear cutting technology. We could also use some support on CNC machine to monitoring to improve productivity; and real time process chemistry analysis to improve process control.
"Research and Development is the single most important thing we must do to profitably compete. That means everything we can afford and more but that is not nearly enough; which is why industries like ours need help with costs, technology knowledge and implementation resources."
This sentiment needs to be heard across Westminster, Whitehall and inside the Department for Business, Energy and Industrial Strategy which has set itself the bold ambition to drive R&D spending in the UK from 1.7% to 2.4% of GDP.
"The message from all the firms who visited us last week is clear: they want to spend more on research and development and they have a very clear understanding of how important it is for them to innovate," said Factory 2050's Chris Greaves.
As a member of the High Value Manufacturing Catapult (HVMC), the AMRC is tasked with helping the UK's small and medium sized firms become more productive. While it has the technology and engineering savvy to make this happen, government needs to ensure that the tax, investment and funding environment is not a blocker to innovation.
"We are seeing a real appetite in our region and the North to work with the AMRC and the HVMC," says Greaves. "In Factory 2050, the place where digital meets manufacturing, we are using Catapult funding to build a demonstrator cell specifically aimed at smaller businesses. This will give them hands on experience of what industrial digitalisation can do for their business, for their bottom line."
For Alan Lyons, the 'beer and bytes' evening was a brilliant start to a rolling programme of 'meets' that will bring the region's SME manufacturing base into close contact with the AMRC.
He said: "There's a real desire from manufacturers across the Sheffield City Region to access the diverse engineering talents of the AMRC and the HVMC. We need to dispel the myth that the AMRC is only for the big players: it isn't. The technologies and processes we are developing are as relevant and applicable to smaller manufacturers as they are to aerospace OEMs. And, with the right funding environment we can really make an impact."
The next meet will be held on Wednesday, May 8 at Factory 2050. To express your interest in attending, please email a.lyons@amrc.co.uk