Helping architects take control of immersive content creation
04 October 2021

Innovative 3D technology company Fixie and the University of Sheffield Advanced Manufacturing Research Centre (AMRC) have secured half a million pounds from Innovate UK to create accessible tools for architects to author their own immersive presentations.

London-based Fixie, which is focused on helping architects create engaging and immersive design communications, will work collaboratively with the AMRC to explore the emerging field of WebXR and its related ecosystem. The ultimate aim is to create practical tools for architects that don't require any additional advanced skills.

The project will also focus on the interaction between physical 3D printed model production and the creation of overlaid augmented reality presentations. Currently, architects need to outsource this costly work, but by utilising the same originating data for the two formats, and putting ownership of the process into the hands of architects, the project will facilitate wider adoption and offer real benefit to the industry.

The highly competitive SMART grant funding is made available for game-changing and commercially viable innovative and disruptive ideas that can significantly impact the UK economy.

"We started Fixie to give more architects the opportunity to practically benefit from emerging, innovative 3D technologies like 3D printing and augmented reality. Our aim is to continue to develop our platform so that architects don't need any prior knowledge to author comprehensive and engaging interactive presentations that utilise both digital and physical assets," said Ronan O'Boyle, one of the founders of Fixie.

Immersive presentations will be authored and delivered through Fixie's existing online platform that currently allows architects to easily create physical models from their digital 3D designs.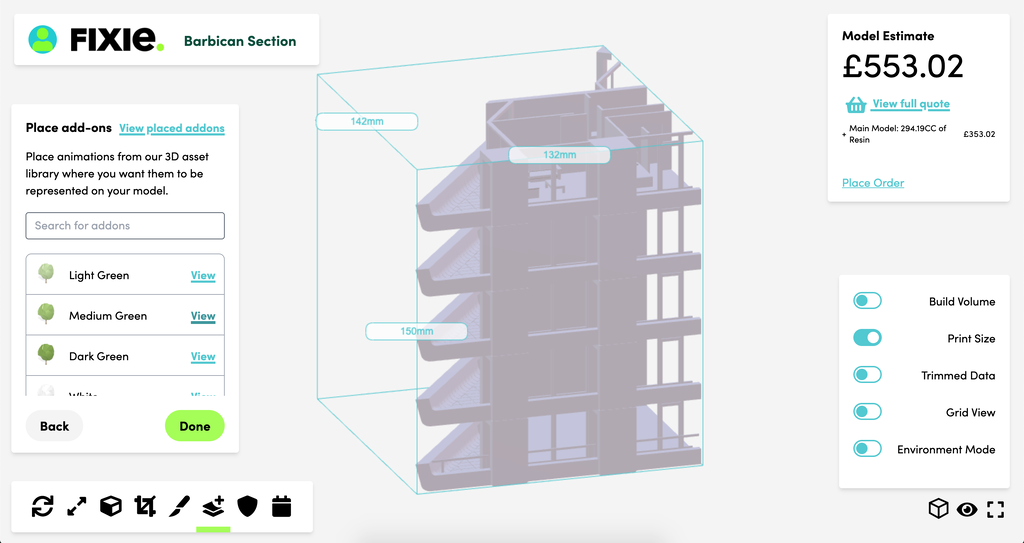 Michelle Greeff, Fixie CEO, said: "We're over the moon to have been chosen from a famously competitive field with an extremely low success rate. We've put a lot of time and effort into defining where these technologies are going within our sector and hope to be at the forefront of their implementation with the support of this funding and through working collaboratively with the AMRC."
The co-funded project has allowed Fixie's team to grow by three full-time staff, bringing software development capabilities in-house for the first time and helping to build a self-sustaining business into the future.
"This grant award recognises Fixie's successful work to date innovating for clients in our sector including with the support of previous funding through Innovate UK's Sustainable Innovation Fund in 2020."
The University of Sheffield AMRC is a network of world-leading research and innovation centres that work with manufacturing companies of all sizes around the globe. The organisation, part of the High Value Manufacturing (HVM) Catapult, transforms industrial and economic performance by making step changes in productivity, increasing competitiveness, developing new products and processes and training new talent and skills.
Head of Digital at the University of Sheffield AMRC, Professor Rab Scott, said: "More and more, we regard the true value in Industry 4.0 technologies as tools to remove or reduce non-value-added activity. The outputs of this project are just that.
"The development of this platform can remove much of the non-value-added manual intervention in the process meaning that the high-value technical skills can be used more effectively elsewhere in a company thus positively impacting on productivity and the bottom line.
"The application of 3D printing in the architectural sector allows a much more coherent understanding of the final outcome of a project, improving communications and managing expectations for all stakeholders."