Making manufacturing fit for the future
26 January 2021

A tech spin-out from the University of Sheffield Advanced Manufacturing Research Centre (AMRC) has secured grant funding to accelerate the development of what has been dubbed the 'Fitbit for UK manufacturing.'

Early industrial adopters of FourJaw Manufacturing Analytics' technology are reporting five-fold increases in productivity, but the firm's founders, CEO Chris Iveson and CTO Robin Hartley, are on a mission to make installing the output-boosting technology even simpler for manufacturers to deploy.

The two founders were research engineers at the AMRC, part of the High Value Manufacturing (HVM) Catapult, when they came up with the idea of an affordable device that would harness production data to empower technically excellent manufacturers with world-class productivity levels, enabling them to thrive in the global marketplace.

"What we are looking at here is a potential game changer for UK manufacturing and the Business Productivity Programme grant is just the financial catalyst we need to make a swift transition from a rather labour intensive installation to a quick-to-deploy device that will give production managers deep insights that enable huge gains in output and productivity," Iveson said, on learning that FourJaw had secured funding just a few months after it was founded.

His business partner, and Royal Academy of Engineering Enterprise Fellow, Hartley added: "In Yorkshire there is a saying that if it ain't cutting metal, it ain't making money. In the high-value manufacturing sector, which is key to the northern economy, the average utilisation of a machine is typically less than 30 per cent. Just a 10 per cent increase in productivity would be revolutionary; but our device delves deep into the brains of shop floor machines, decoding data to drive productivity gains well in excess of this."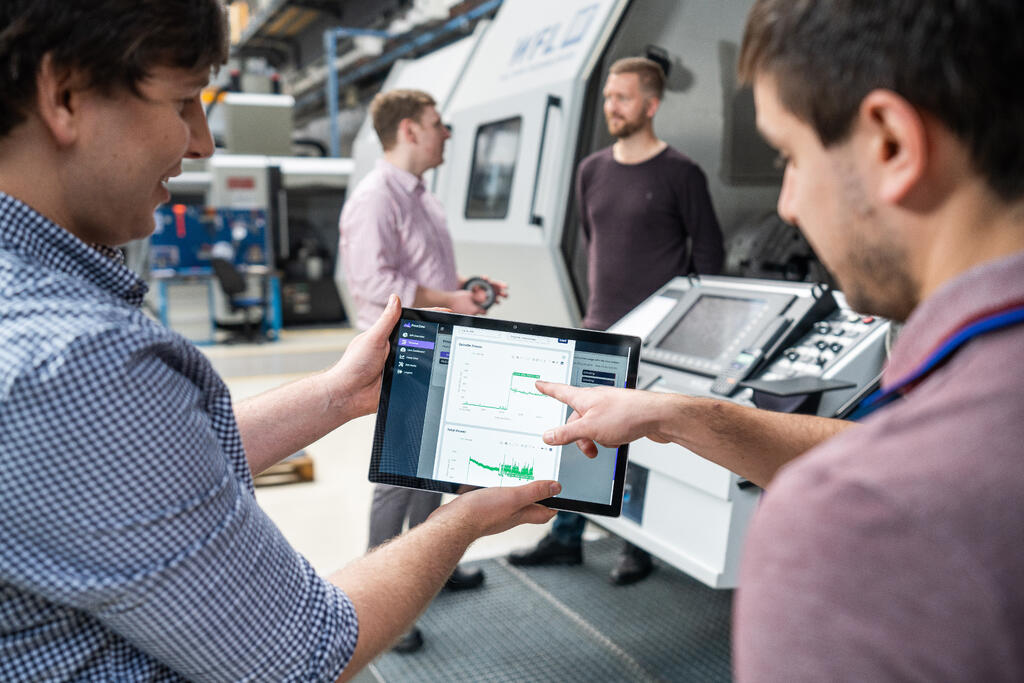 FourJaw have received the grant funding from the Business Productivity Programme, a £4.7 million collaborative venture involving Barnsley and Sheffield councils along with the Sheffield City Region Combined Mayoral Authority and the England European Regional Development Fund. The programme is part of wider approach in Sheffield and the region to creating an eco-system that fosters industrial and economic innovation to boost productivity.
Welcoming the grant funding, AMRC CEO, Steve Foxley, said: "It's great to see the region backing two very talented and enterprising engineers who have taken their experience at the AMRC to spin out a company that will help UK manufacturers – large and small – to capture and deploy the power of data and digitalisation to improve productivity."
Sheffield City Council Cabinet member for Business and Investment, Mazher Iqbal, said improving productivity is a crucial challenge for the region and the UK. "Even before the pandemic, the UK was in the midst of a productivity crisis. Support for innovative start-ups and spin-outs like FourJaw, that bring Sheffield's strengths in digital tech and manufacturing together, point the way towards a more productive and prosperous future," Councillor Iqbal said.
"Raising productivity is about much more than dry statistics, graphs and GVA. It is about improving people's lives and livelihoods; sustaining a resilient economy with good, high-value jobs; and raising aspiration and ambition and creating a long-term future for our young people. This grant funding is a down payment on making our region more productive and creating a more resilient business community."