Safety decking company loads up for market
02 June 2020

Load testing by the University of Sheffield AMRC has paved the way for a family-run firm to go ahead with production of their innovative plastic safety decking system.

Revdek Limited, based in Howden, aims to disrupt the market with its lightweight, easy to assemble, flexible panel design for working and safety platforms which are used in the construction industry, particularly house building.

But before it could hit go on production and take the system to market, the brains behind the bright green decking, Mike Bramley and son-in-law Chris Bateman, needed to test and validate the system's structural integrity and safety.

To help them achieve certification, Chris approached the Advanced Structural Testing Centre (ASTC) team at the University of Sheffield Advanced Manufacturing Research Centre (AMRC), which is part of the High Value Manufacturing (HVM) Catapult.

Chris said: "It's quite hard to find someone to test a product like this. Most places I spoke to were offering material testing - tensile testing the plastic material - but we needed more than that. We approached the Advanced Structural Testing Centre at the AMRC and we've not looked back."

The Revdek system was put through rigorous testing by the UKAS-accredited ASTC team, who applied loads of up to 305kg per square metre to ensure the panels met the standards required by the company. The system passed with flying colours, achieving Class 4, which Chris says makes it stronger and safer than other plastic systems on the market.

"We've been working on the design and development of the safety decking system for several years now and so to reach a point of having a product that is ready for industry standard testing is very exciting," he said.

"Furthermore, having the system pass the tests means that our time, energy and resources invested in developing the system have been well spent, and this is a particular success and achievement for Mike who has been the key innovator behind the unique features of the Revdek safety decking system."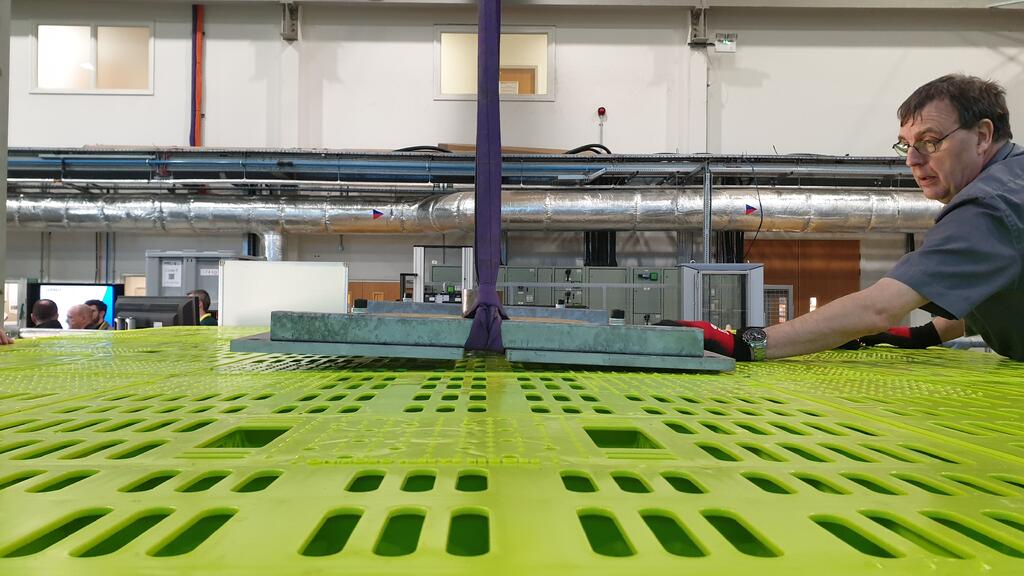 Phil Spiers, head of the ASTC, said Revdek were a pleasure to work with as the group develops its capability for offering test solutions to industry.
"This is just the sort of testing that the AMRC is geared up for, supporting SMEs with accredited testing that enables them to get a certified product to market," said Phil. "The testing of complex and 'out of the ordinary' products and assemblies is what the Advanced Structural Test Centre excels at and being able to secure this testing as part of the AMRC's commitment to funding SME projects makes access to a world class accredited test facility possible for the small businesses who form the backbone of UK production."
Once assembled, the bright green injection moulded plastic panels form a sturdy access deck that allows craftsmen to work at height safely and prevents falls as it is able to reach the storey height for the installation of things such as floor joists, beams or roof trusses.
It is not only strength that sets Revdek apart from its competitors, it is the innovative design. The panels are rectangular in shape, measuring 1200mm x 900mm. The majority of other systems currently on the market feature square panels and measure 1000mm x 1000mm.
The advantages of the rectangle shape, Chris says, is the flexibility and fewer components.
"We have tried to innovate and do things a bit differently," he said. "Not all building plots are square so you can get what we call 'overlaps' when fitting the panels. But if you have a rectangular board that is 1200mm x 900mm, it is designed in such a way that it allows more versatility.
"We think we will use eight per cent fewer boards than we would if using square boards because the surface area is slightly more which means fewer panels being required and also fewer overlaps. This is important because if you have an overlap it becomes a trip hazard. It also means you are using more boards; more boards means more product, more plastic, and more environmental waste."
Chris says the other major innovation of the design is what lies beneath the panels – a 'spring clip' mechanism.
"All other safety decking products on the market use a straight pin to lock the panels together whereas we have designed this spring clip," he said. "The advantages of that is you don't have to secure it with nylon rope like you do with straight pins. The spring clip is nylon-based plastic so it springs outwards and locks in to stop it falling out.
"As there are fewer component parts being used, it means the system is a lot quicker to assemble and dismantle."
This is just the sort of testing that the AMRC is geared up for, supporting SMEs with accredited testing that enables them to get a certified product to market.
Revdek is an entity of Prodek Safety Systems, which was set up by Chris's father-in-law Mike Bramley more than 13 years ago. Chris joined the company two years ago and soon after the pair set up Revdek.
Chris said: "We have spent the last two years developing our own system with the knowledge we have gained from supplying and fitting safety decking for the last 13 years.
"One of Mike's visions was he didn't want to copy what is already available, he wanted to innovate.
"We took the decision to do things differently and outthink the competition. We were stubborn to the point of saying 'no we can do something better' – creating a system that uses fewer components and is easier to erect and dismantle for our operatives. That means we can do more in a day – increasing our productivity.
"We have been through a number of iterations of the designs, looked at different versions of the polymer plastic, different cooling cycles for the components, and it has been a journey and to get to the testing stage."
The project was paid for by the AMRC using funds from the High Value Manufacturing (HMV) Catapult as part of its commitment to supporting smaller and medium sized businesses.
---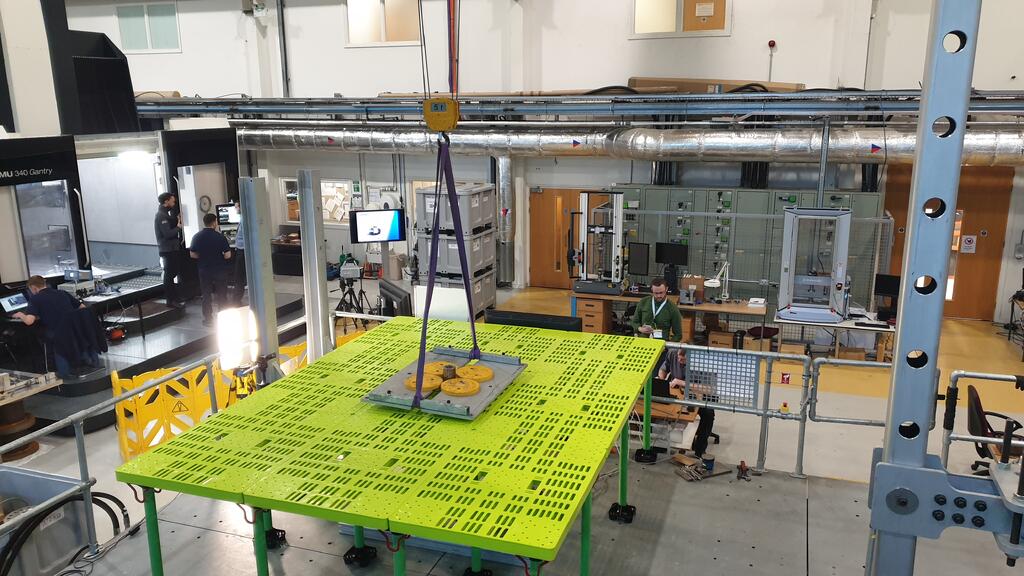 The testing
The AMRC was given three panels to test, which were assembled into the centre of a nine panel platform deck. Three deadweight footprints were used for the test:
A local class 3 uniform distributed load of 1.92kN (195.6kg)
A local class 4 uniform distributed load of 2.88kN (293.67kg)
A load class 4 concentrated load of 3kN (305.91kg)
The Class 3 and Class 4 uniform distributed loads were applied for three minutes before being reduced back to zero, and then applied for 24 hours before reducing to zero. The Class 4 concentrated load was applied for 90 seconds and reduced to zero, and then given the same 24 hour treatment.
All three safety platforms met the required load class specifications as defined in the National Standard; the uniform distributed load met Class 3 and 4; and the concentrated load on an area 500mm x 500mm with a centre support leg installed met the Class 4 criteria.