North West motor trade business goes digital with AMRC support
21 July 2021

Diverse Automotive Technicians (DA Techs), a rapidly expanding motor trade repair and refurbishment business, has adopted digitalisation of its processes with support from engineers at the University of Sheffield Advanced Manufacturing Research Centre (AMRC) North West.

DA Techs started refurbishing diamond cut alloy wheels in February 2017 with a lathe in a van. It now has seven outlets providing bodywork and tyre services in addition to the core wheels business which includes two mobile pods situated on client sites.

As part of the growth, the company wanted to adopt digitalisation of its wheel refurbishment processes and explore ways to make it more efficient. The company turned to research engineers at AMRC North West for support developing a platform which brings all of the data and analytics about their processes onto one dashboard.

Pete Radcliffe, chair of DA Techs, said: "One thing we've been clear about from the start is a focus on top quality - we will always do things to the highest standard we can. The approach at the AMRC was a great match for this ethos.

"We wanted support to computerise the wheel refurbishment processes. It takes up to eight stages to refurbish each wheel, and we wanted to understand how long each step was taking and how we might be able to make it more efficient. This project has now delivered with the computerised processes working well and helping to improve productivity."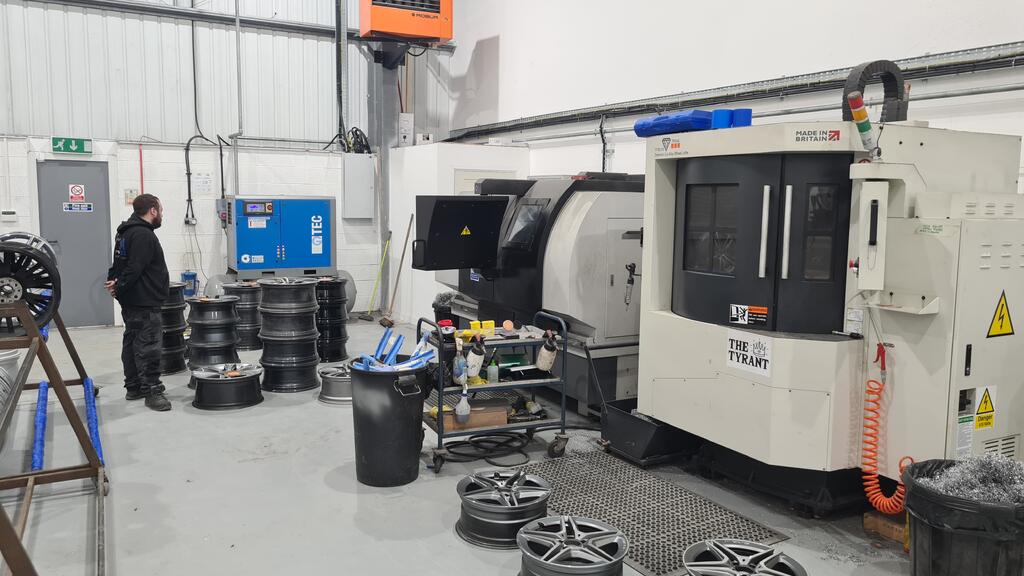 Nick Hall, business engagement manager at AMRC North West, said: "DA Techs is a business that carries out repairs, refurbishments and servicing to alloy wheels. Initially our project with this business involved mapping out these various stages and elements, some of which are complex and vary depending on a number of different factors. For example, the acid bath which removes paint behaves differently depending on temperature, and this variation needs to be taken into account.
"We have also supported them to use sensors to get accurate information which can then be fed into a digital dashboard giving a full picture of the processes in one place."
The company worked with Amir Kotb, digital manufacturing engineer at AMRC North West, which is currently based in Preston but will move to a purpose-built £20m facility on the Samlesbury Aerospace Enterprise Zone later this year.
Amir said: "Our work with DA Techs has been about complete digitalisation of the wheel business and building them a platform which brings all the data and analytics about their processes into one dashboard. It can tell you exactly how long each stage of the alloy wheel refurbishment will take, and provide other useful information for their customers so they know when they'll be able to collect their finished product.
"They have already processed over 3,000 wheels using this new technology. We are now working with them to digitalise their portable pods, to provide similar performance measurement data and opportunity to compare and improve productivity across their client sites."
Pete Radcliffe added: "We currently have two of the mobile pods refurbishing wheels based with our biggest clients. It's a win-win, more convenient for clients and more efficient for us. It's exciting to be developing this area of the business further with the AMRC - more mobile pods will mean we can continue to expand in new and innovative ways while maintaining a focus on quality."
To find out how AMRC North West can help your business, contact Iain Martin, senior engagement manager, on 01254 947100 or email Iain i.d.martin@amrc.co.uk.

The project was part-funded by the European Regional Development Fund (ERDF) as part of the European Structural and Investment Funds Growth Programme 2014-2020.