AMRC Cymru showcases capabilities and future talent at Wales Tech Week
24 October 2023

AMRC Cymru rolled into Wales Tech Week with its AgBot fully autonomous tractor, gave insightful STEM talks on the headline stage and presented its expertise in digital and automation.

Joining the High Value Manufacturing (HVM) Catapult, as part of the Innovate UK Innovation Zone, the team from AMRC Cymru gave visitors an immersive virtual reality experience of its Ffatri 4.0 project – showing how Welsh manufacturers can increase business resilience, productivity and sustainability. The AgBot tractor also made its first public appearance – with the research centre pledging a commitment to ploughing new ground in the agricultural sector.

The three-day event at the International Conference Centre (ICC) Cymru, hosted by Technology Connected, Wales Tech Week aimed to provide a powerful collective voice for the technology industry in Wales and beyond.

Andy Silcox, research director at AMRC Cymru, said: "We were delighted to be at Wales Tech Week as it gave us an opportunity to showcase the support the AMRC and wider HVM Catapult provides companies to help them explore digital and automation tools to become more productive and sustainable. It was also the first appearance of Agbot, which shows how these principles cross over into the agricultural sector.

"We were very proud to have two of our engineers, Zara-Lea Field and Lucy Morley, support the Tech4 Talent Day where they talked about their own career journeys into engineering, with the hope of inspiring the next generation of talent to take a similar path to help solve the huge engineering challenges we face in the world today."

During the final day of the event, Lucy Morley, manufacturing research engineer and recent graduate, alongside Zara-Lea Fields, a current apprentice workshop technician, both from AMRC Cymru, took to the headline stage to explore how STEM is not just a subject, but a key to unlocking your future in the dynamic landscape of engineering. Joining them on the panel also included Rab Scott, director of industrial digitalisation for the AMRC and Eva Fryc, regional network lead for STEM Learning UK.

Reflecting on her experience of an apprenticeship and journey as an engineer, Lucy gave some advice to attendees in the room: "Don't let the setbacks hold you back, we can learn more from our setbacks than we can from our wins, this has certainly been the case for me," she said.

Also expressing why she loves this industry, Lucy added: "It is great to have such a great amount of tech coming through the manufacturing industry, but it's challenging to bring the tech into an industrial environment – but it's projects where we're helping to make these technologies robust enough for the future that I love."

Zara-Lea explained how she's always enjoyed being creative, but never saw herself getting into engineering. However, now, after spending some time working in the industry while undertaking her apprenticeship, she admits she is inspired by the 'endless amounts of possibilities of what can be produced in the sector'.

"It feels great to see the work we are helping in and to see why it is being done and why it matters," added Zara-Lea. "The work in manufacturing helps to make massive changes to our society – it's the beginning of the future."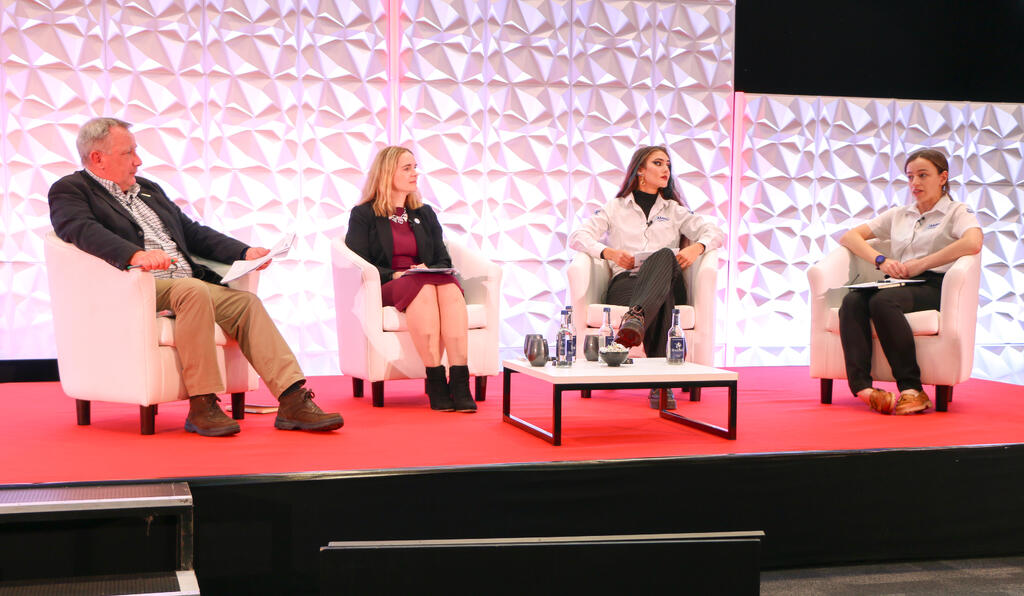 Katherine Bennett, HVM Catapult chief executive, said: "For four years now AMRC Cymru has been empowering Welsh manufacturers to drive-up productivity and slash emissions by harnessing the latest digital technologies. It was brilliant to see the team demonstrating their very latest innovations in the Innovate UK Innovation Zone, and watch Lucy and Zara-Lea inspire a whole new generation of budding engineers.
"Collaboration lies at the heart of everything we do and that was strikingly visible at Wales Tech Week with colleagues from AMRC Cymru, the wider HVM Catapult network and Innovate UK standing shoulder-to-shoulder, signalling how we can be a collective catalyst for pioneering technology and innovation breakthroughs."
Dr Louise Jones, regional manager for Innovate UK said: "It was really great for Innovate UK to have such a strong presence at Wales tech week, bringing together Innovate UK, Innovate UK KTN and innovate UK Edge alongside our Catapults, truly showing we are active in Wales and united in our efforts to support Welsh innovation.
"Working alongside AMRC Cymru to showcase the work in Wales was really important for us in showing the expertise and capabilities on offer within Wales within the Catapult. One of the key action points within our Collaborative Innovation Plan for Wales with the Welsh Government, which we launched this week, is ensuring that innovation stakeholders in Wales are aware of and engage with the opportunities available to them through Innovate UK and Welsh Government innovation stimuli."
Summing up the three-day event, Rab Scott, added: "Wales is a really important region, for the UK, for manufacturing and for the impact that we can have across typical manufacturing sectors – but also in the food and drink sector and across the agricultural sector.
"Wales Tech Week has been a great showcase and platform for us to discuss and demonstrate our capabilities."
Visit amrc.co.uk/Cymru to learn more about the centres' impact across North Wales.