Contractor appointed to build AMRC North West
05 August 2020

The University of Sheffield has appointed Robertson to build its dedicated Advanced Manufacturing Research Centre (AMRC) in the North West of England, boosting Lancashire's reputation as one of the UK's most innovative regions for advanced manufacturing and extending the AMRC's footprint across the north.

The University of Sheffield AMRC North West will be constructed at the heart of the Samlesbury Aerospace Enterprise Zone in Preston, part of the wider Lancashire Advanced Manufacturing and Energy Cluster.

A £20m grant from Lancashire Enterprise Partnership (LEP) Growth Deal will be used to build and equip the 4,500m2 applied research centre, which will accelerate and demonstrate innovative technologies, tools and techniques.

Robertson was awarded the £11m construction contract following a competitive tender process by the University of Sheffield. Work is expected to start on site in September and complete during the second half of 2021.

Steve Foxley, CEO, University of Sheffield AMRC, said: "We are pleased to have appointed Robertson as the contractor for our new dedicated applied research facility in the North West. This is an important step in realising our vision for the North and beyond.

"The new facility will not only place Lancashire at the forefront of advanced manufacturing and technologies, but it will be a catalyst for inward investment, supporting businesses in the region to innovate, drive up productivity, and lead manufacturing towards a smart, sustainable and resilient future."
This is an important step in realising our vision for the North and beyond.
Robertson is one of the largest family-owned construction, infrastructure and support services businesses in the UK, and has a growing presence in the North West with a large portfolio of work that includes the regeneration of Blackpool town centre.
Dirk Pittaway, managing director, Robertson North West, said: "Robertson has a reputation for delivering quality projects on budget and on programme. Our appointment to build AMRC North West illustrates further the commitment of the University of Sheffield to deliver a world-class facility for the incredible work that will be undertaken. As a business with a strong North West presence we will be working wherever we can with local supply chain partners, further bolstering the local economy and proudly providing a platform for AMRC North West to take its place on the global stage."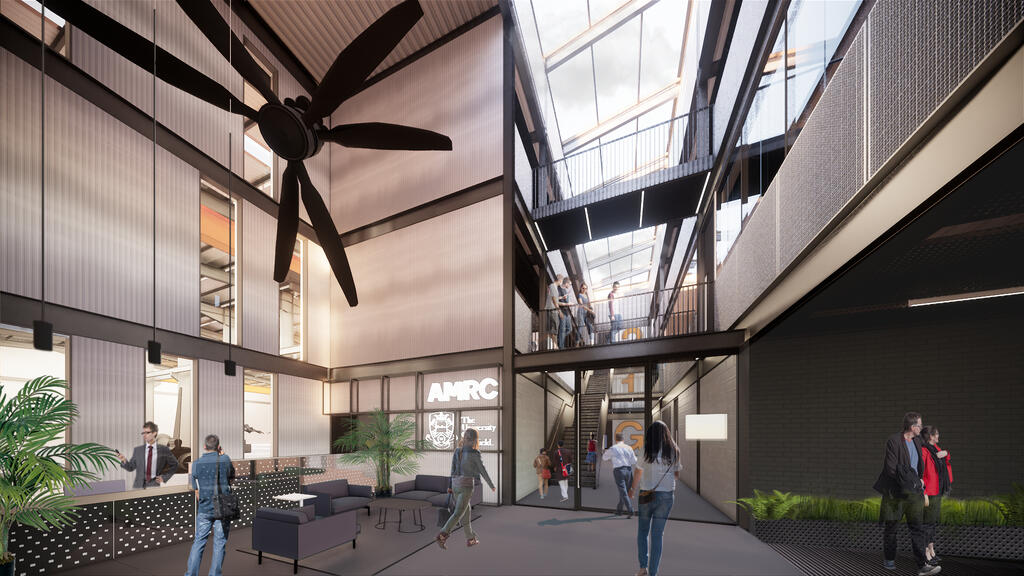 Alongside Robertson a full design team is in place including Cartwright Pickard Architects, Curtins Engineers, Arup, Gardiner and Theobald, and Rex Procter and Partners.
AMRC North West will play a key role in driving recovery, growth, productivity and innovation, supporting Lancashire firms to compete nationally and internationally. The creation of a high-performing technical R&D team will enhance the manufacturing base of Lancashire, working with both manufacturing companies and their supply chains.
Steve Fogg, Chair of the Lancashire Enterprise Partnership, said: ''I am delighted Robertson has been awarded the construction contract to deliver the AMRC facility on the Samlesbury Enterprise Zone.
"The appointment of a contractor takes us one step closer to realising our vision for the site. The Enterprise Zone will be one of the county's sites of strategic significance and the location of the AMRC is testament to Lancashire's strong aerospace and advanced manufacturing capabilities.
"The decision by the Lancashire Enterprise Partnership to invest £20m of its Growth Deal monies into this scheme is due to its confidence in the AMRC's ability to drive growth and increase productivity to ensure Lancashire remains at the forefront of innovative and cutting-edge technologies."
I am delighted Robertson has been awarded the construction contract to deliver the AMRC facility on the Samlesbury Enterprise Zone.
Cllr Geoff Driver CBE, Leader of Lancashire County Council, said: "We welcome the appointment of Robertson to deliver the AMRC facility at the Samlesbury Aerospace Enterprise Zone, one of the county council's key strategic employment sites and essential to accelerating Lancashire's post Covid-19 economic recovery.
"Our development teams have been working hard for the past few months conducting significant site preparation to enable this work to commence. This will not only support Lancashire's existing businesses but also act as a catalyst to attract new business into the county."
Currently operating from an interim facility provided by the University of Central Lancashire (UCLan) in the centre of Preston, the growing AMRC North West team is dedicated to working with manufacturing businesses, from global aerospace giants to local small and medium enterprises (SMEs). In addition to long-term collaborations, the team has already worked with more than 100 Lancashire manufacturing SMEs on one-off projects, as part of its mandate through ERDF/Growth Deal funding to enhance the regional economic base and its supply chains.